International Day for the Elimination of Violence Against Women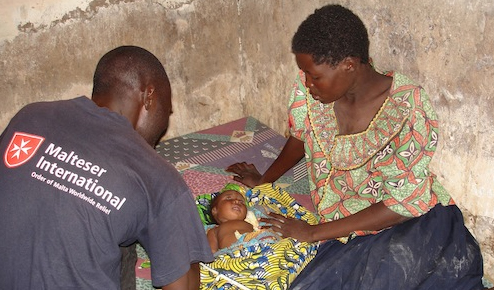 The Order of Malta's Commitment in the Democratic Republic of the Congo
In international classifications the Democratic Republic of the Congo holds a terrible record for number of rapes perpetrated on civilians. On the International Day for the Elimination of Violence Against Women, United Nations statistics prove that 1,100 rapes occur every month in the Congo, an average of 36 a day.
Since 1996, the Sovereign Order of Malta has been active in the east of the Democratic Republic of the Congo. It runs numerous projects – health, educational, agricultural and social – to improve the lives of the people who are often struggling just to survive. Over the last ten years, efforts have been mainly aimed at providing medical and psychological assistance to rape victims. Through Malteser International – its relief agency – the Order has assisted and given support to some 50,000 women victims of violence and rape.
Large-scale sexual violence, perpetrated by the militia in this area of Africa, is used as a weapon of war to humiliate and terrorize civilians and is creating irreparable social trauma.
There are 64 health centres, mainly operating in the north-east of the country, in the Haut Uele and South Kivu regions. Besides medical assistance, including post-exposure prophylaxis for HIV, the Order of Malta also promotes awareness-raising campaigns to foster the social reintegration of rape and violence victims, often marginalized, separated from their families and condemned to live in solitude and isolation.
Assistance consists of integrating basic medical treatment, usually provided by Malteser International, with targeted interventions for psychological support, including home visits to reach the more serious cases, and for distributing medicines. This work is carried out in close cooperation with local hospitals. Also important are the initiatives for finding jobs for these women, enabling them to achieve at least partial economic independence.
Photo: Malteser International