Agreement on Diplomatic Relations Signed between the Republic of San Marino and the Republic of Honduras
Rome, 16/12/2013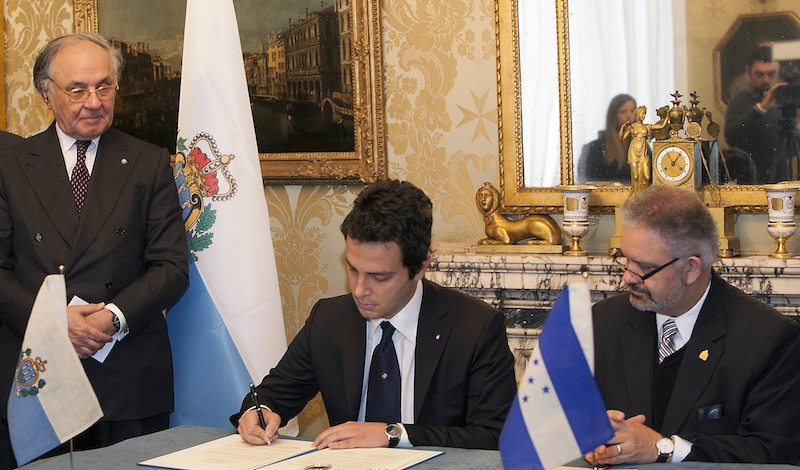 The ceremony at the seat of the Sovereign Order of Malta's government
Today, 16 December, the agreement on the establishment of diplomatic relations between the Republic of San Marino and the Republic of Honduras was signed. The ceremony took place in the seat of the Sovereign Order of Malta's government in Rome.  The agreement was signed by the two ambassadors accredited to the Sovereign Order of Malta, Giuliano Bianchi di Castelbianco and Carlos Ávila Molina.
While celebrating the formalisation of relations between the two countries, to which the Order is linked by close ties of friendship,  the Grand Chancellor Jean-Pierre Mazery stressed the "Sovereign Order of Malta's independent, apolitical and neutral nature".  A role that enables the Order to perform delicate facilitation and mediation services for the international community and in particular for the 104 states with which it has diplomatic relations.
The Secretary of State for Foreign Affairs of the Republic of San Marino, Pasquale Valentini, expressed his written satisfaction for the initiation of diplomatic relations with a central American country, hoping that they can promote cooperation in the economic, cultural and tourism sectors.
Photos: Marco Merlini