The Order of Malta Christmas soup campaign now an annual event in Lithuania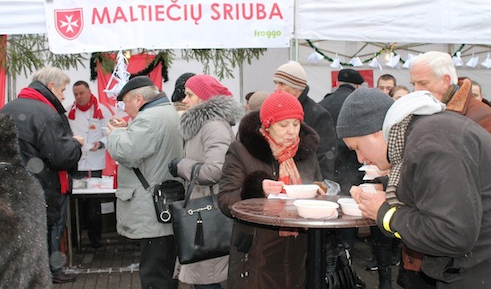 Eight years on, the service brings warmth and comfort for those on the poverty line

Christmas time has meant a hot meal and precious 'companion time' for many hundreds of lonely, elderly and sick in Lithuania. The Order's Charity Service in Lithuania has worked to bring hot soup and nourishing food to the needy in towns around the country, and to spend some quality time with them. Poverty is a problem, but loneliness is too.
Created and run by Order of Malta volunteers in Lithuania, the campaign, 'Maltieciu sriuba 2013' (Order of Malta Soup 2013) – patron: former Lithuanian President Valdas Adamkus – is now in its eighth year and this Christmas partnered with Lithuanian National Radio and Television.
Together, they organised a fundraising concert on national television. Campaign events took place in December in 23 cities – all opened by their mayors, with TV and radio reports and interviews with Order volunteers in newspapers and internet portals. The President of Lithuania, Dalia Grybauskaitė, recorded a video to support the campaign. The concert included Lithuanian pop stars and among the artists was a member of the Order of Malta, Portuguese tenor Bruno Ribeiro, who donated his services, singing two arias. The Lithuanian Order of Malta Charity Service awarded the city of Klaipėda a 'Kindness Star' for dedicating its Christmas events to the Order, with special acknowledgment by the Grand Master of the Order of Malta, Fra' Matthew Festing, to mayor Vytautas Grubliauskas.
The success of the 'Order of Malta Soup 2013' campaign means support for two special projects – Meals on Wheels, running for 20 years in 15 Lithuanian cities, and Social Homecare for the elderly, lonely and sick.
"Because of the very good campaign outcome, we can help many more old, single, seriously ill people," explains Eitvydas Bingelis, General Secretary of the Order's Charity Service. "Another result is that we are now one of the best-known humanitarian organisations in Lithuania. I hope this will help us to assist many more poor people, and attract more volunteers too."
The Order's Charity Service in Lithuania runs projects across 26 cities and towns to combat deprivation, where in 2012, 560,000 Lithuanians were living below the poverty line. The Charity Service runs social help centres, social voluntary home care services, meals on wheels projects, summer camps for young disabled, and participates in national (to Šiluva) and international (to Lourdes) pilgrimages with disabled guests. Its Youth Group, with a 500-strong volunteer membership, has just celebrated its twentieth anniversary of caring for those in need.
For more information (in Lithuanian and English): www.maltieciai.lt