Official visit of the Lithuanian Foreign Minister
Rome, 18/01/2014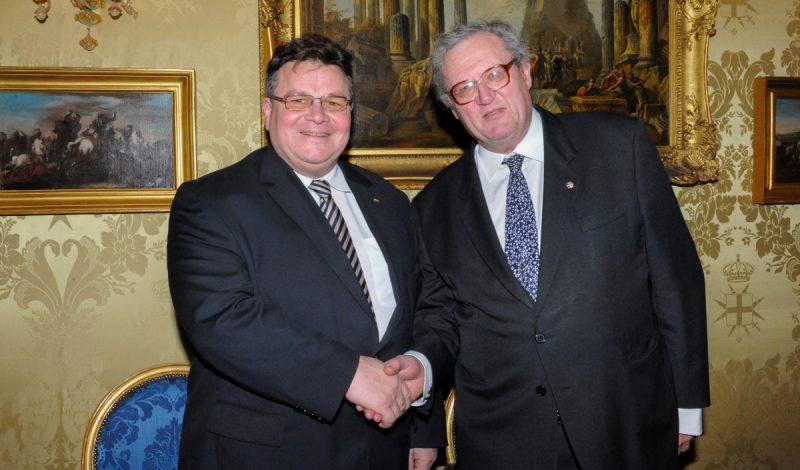 The Lithuanian Minister of Foreign Affairs,  Linas Linkevičius,  was received by the Grand Master of the Sovereign Order of Malta, Fra' Matthew Festing, on 16 January last.  The Grand Chancellor Jean-Pierre Mazery and the Grand Hospitaller Albrecht Boeselager were also present at the meeting, held in the headquarters of the Order's Grand Magistry  in Rome.
Deep-felt appreciation was expressed for the fruitful cooperation between the two States – who established diplomatic relations in 1992 –  in tackling the difficult social issues.
Minister Linkevičius stressed how the Order of Malta is an important presence with its many activities that include soup kitchens, children's day-care centres, assistance for the elderly and the local emergency corps. "Services and projects that are well known and greatly valued in our country," the Foreign Minister explained.
Expressing his thanks for the Lithuanian government's valuable support, the Grand Master Fra' Matthew Festing emphasized that this commitment will continue unabated.  Also discussed during the meeting were the possibility of strengthening the collaboration already existing between Lithuania and the Order of Malta and possible bilateral cooperation programmes.
In conclusion, the Lithuanian minister presented a brief report on the second semester of the 2013 Lithuanian  European Union presidency.