"A Hot Meal in a Cold Winter" Project in Serbia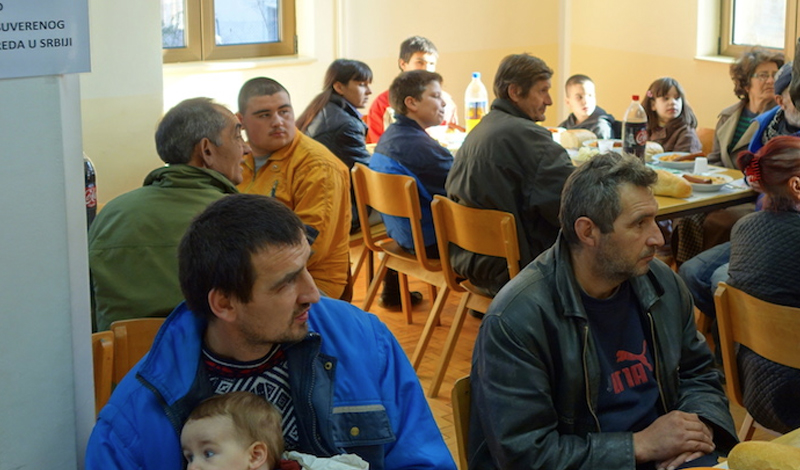 The Order of Malta's initiative for the needy in the towns of Sebac and Aleksinac

"A Hot Meal in a Cold Winter" is the name of the initiative organized by the Sovereign Order of Malta's embassy in Belgrade for distributing meals during the freezing winter months of December, January and February. On Saturday 11 January, 60 people gathered in the town of Aleksinac, in south-east Serbia, to enjoy the meal offered by the Sovereign Order of Malta's embassy together with a special benediction by the Catholic Archbishop of Belgrade, Monsignor Stanislav Hocevar, and by the Orthodox Deacon Nenad Dorkevic.
The Order's Ambassador Alberto di Luca participated in the inauguration of the initiative with the Mayor of Aleksinac, Nenad Stankovic. Also present was the Serbian Caritas, which has played an invaluable role in this human solidarity project. Ambassador di Luca's greetings and Monsignor Hocevar's words of faith and encouragement were auspicious for the Orthodox New Year and for sharing a moment of serenity, albeit in the midst of a life full of hardships.
The Aleksinac initiative follows that already running in December in the town of Sebac, in the north west of Serbia close to the border with Bosnia and Croatia, where lunches were offered in the psychiatry department of the local hospital and inside a day hospital for people with mental illness, often with economic problems as well as suffering loneliness and social malaise. Again in Sebac, hot meals were offered in the centre for refugees from Bosnia and Croatia, which in the '90s accommodated some 8000 persons fleeing from the war and where currently 80 people still live, mostly the elderly and the sick.