The Grand Master visits Pompeii
Rome, 06/02/2014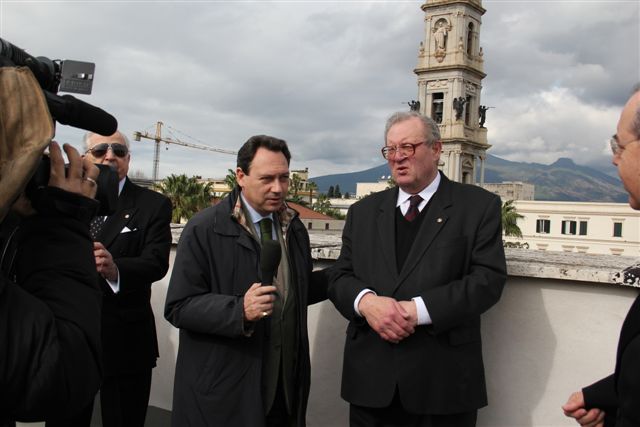 Thanks to an agreement with the Sanctuary and the Holy see, a new soup kitchen for the poor and pilgrims will shortly be inaugurated
Visit to Pompeii for the Grand Master of the Sovereign Order of Malta Fra' Matthew Festing. There to greet him were the Archbishop-Prelate of Pompeii, monsignor Tommaso Caputo, and high officers of the Sovereign Order of Malta's  Grand Priory of Naples and Sicily. The Grand Master's visit follows the recent agreement signed with the Sanctuary and Holy See for setting up a new soup kitchen.
After visiting the Sanctuary of the Blessed Virgin of the Rosary, the Grand Master and the Sovereign Order of Malta's delegation stopped off in the House of the Pilgrim complex, where the flag with the eight-pointed cross flies alongside that of the Holy See. The structure dates back to the 1930s and offers refreshment and services for pilgrims visiting the Marian town.  The Sovereign Order of Malta will be inaugurating a new soup kitchen in the same structure in the coming months, capable of distributing up to a hundred meals every day and accommodating twenty homeless people every night.
During his visit the Grand Master was granted the honorary citizenship of Pompeii.