The presence of John Paul II in society
Rome, 25/04/2014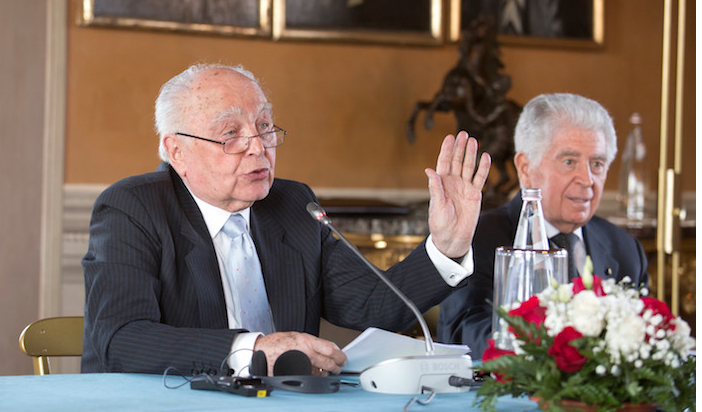 Lecture by Professor Stanislaw Grygiel in the presence of Grand Master Fra' Matthew Festing
On the occasion of the canonization of John Paul II on 27 April, Stanislaw Grygiel – professor of Philosophical Anthropology at the Pontifical John Paul II Institute, Rome – gave a lecture on "The Presence of John Paul II in Society" in the Magistral Villa in Rome. A fascinating journey into the thinking of the extraordinary figure of Pope Wojtyla, with contributions by the Order of Malta's Grand Master, Fra' Matthew Festing, Cardinal Kazimierz Nycz, Metropolitan Archbishop of Warsaw, and the Sovereign Order's Ambassador to Poland, Vincenzo Mann
Friend first and later advisor of the Polish pontiff, Professor Grygiel illustrated the cardinal points of Pope Wojtyla's philosophy and vision, starting with his profound love of humanity and of the faith which – he explained – "reveals the relational nature of persons, because believing in others means placing our trust in them.  The greatest work of art, as John Paul II loved to say, is the human being".
Turning then to the Order of Malta's motto, Tuitio Fidei, Obsequium Pauperum, Professor Grygiel, who has recently published the study "Dialogando con Giovanni Paolo II" (Talking to John Paul II), recalled the words the pope addressed to the Order in October 2000: "the praiseworthy initiatives that your Order carries out in various areas of moral and spiritual poverty… expressing….in a visible and concrete way the love of the Lord and of the Church".
There is no doubt that Pope Wojtyla had always been close to the Order of Malta, as the Grand Master emphasized in his final speech: "His legacy," said Fra' Matthew Festing, "will continue to live with the new generations to whom he always paid great attention, as proved by the affection and compassion the entire world displayed at his death".