Special care for the lonely elderly and disadvantaged children in Lithuania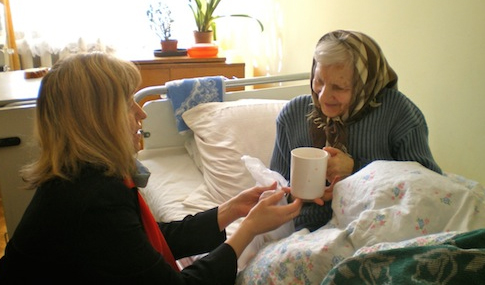 Order of Malta Easter campaign is part of a care tradition

An Easter campaign run by Order of Malta Relief Organisation in Lithuania, (Maltos Ordino Pagalbos Tarnybais), has become so popular that it is now something of a custom. In this third annual campaign, the Service was out again in full force, in 25 cities around the country.
Members and volunteers joined together to make chocolate eggs joyfully decorated by children from the eight care centres the Service runs, created papier-mâché balloons to send into the heavens, and mixed up hot chocolate drinks to the delight of elderly guests.
There were concerts and shows, egg rolling contests, swimming displays, and even a football match in canoes. There were visits to hospitals and shelters and the bringing of Easter souvenirs and pictures to elderly patients, all made by the children. 'We have organised a real celebration for lonely, ailing elderly people and children,' noted the Relief Organisation President, Romas Abunevičius
The Order's Relief Organisation in Lithuania is involved in a wide range of projects in the country, and recently celebrated its twentieth anniversary. Projects focus on: support for the elderly poor, with the delivery of hot meals and provision of home care in 15 cities; social care centres which provide food, clothes and hygiene supplies in 26 cities, projects for the disabled, first aid and home care courses for volunteers in four regions, eight day care centres for children from socially vulnerable families, pilgrimages accompanying the disabled to Lourdes and Siluva, youth social activities in 26 cities, and fundraising campaigns.