The Sovereign Order of Malta receives Cardinal Parolin Holy See's Secretary of State
Rome, 12/05/2014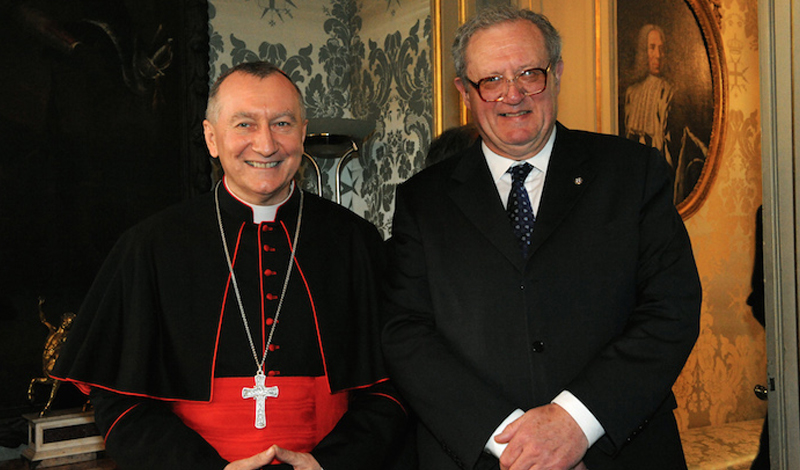 The meeting with Grand Master Fra' Matthew Festing this morning. Cardinal Parolin: "The Order can carry out a permanent and contemporary mission in the Church today".
The Holy See's Secretary of State, Cardinal Pietro Parolin, met the Grand Master of the Sovereign Order of Malta, Fra' Matthew Festing, accompanied by the Grand Chancellor, Jean-Pierre Mazery, and the Grand Hospitaller Albrecht Boeselager, in the Magistral Palace this morning.
The meeting was held in an atmosphere of great cordiality. Recalling its main areas of humanitarian assistance to the sick, to the victims of natural disasters and wars, Cardinal Parolin urged the Order of Malta to "continue confidently along its path. Because in this new spiritual atmosphere, with the emphasis Pope Francis places on closeness to the poor and to all those in difficulty, the Order can carry out a permanent and contemporary mission in the Church today".
In this regard, the Holy See's Secretary of State pointed out the Order of Malta's work in Pompeii – which he had visited a few days ago – to assist pilgrims and support those in need.
Important current topics were discussed during the encounter, such as the desperate humanitarian situation in Syria, where the Order is continuing its untiring support for refugees in the bordering countries and especially in Lebanon, where its reception centres provide health and social services for thousands of these people. The Order's action in the entire Middle East area was a central topic of the meeting, with reference to the Holy Father's imminent visit to the region.
The Sovereign Order of Malta's important humanitarian actions in Africa, in Latin and Central America and in Asia were also touched on during the meeting.