Uganda: the Order of Malta Distributes Aid to South Sudan Refugees
Rome, 19/05/2014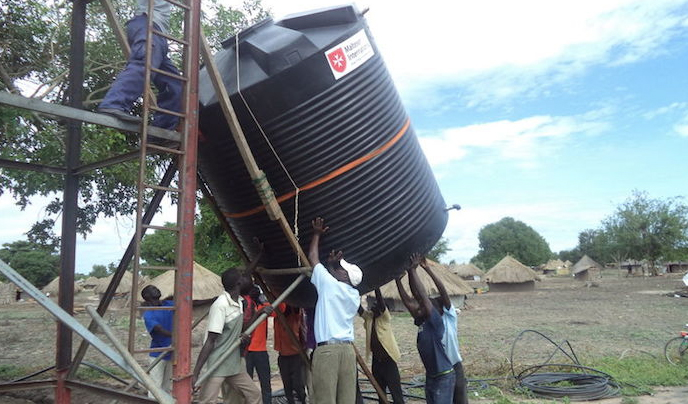 According to United Nations figures, the civil crisis underway in South Sudan since the end of last year has made 1.3 million people homeless. Over three hundred thousand have been forced to flee to neighbouring countries, including Uganda.
In north Uganda, in the Rhino refugee camp, Malteser International, the Sovereign Order of Malta's International Relief Agency, is intensifying its efforts to assist the refugees. Thanks to a requalification of water piping and wells, carried out in cooperation with the local population, 20 thousand litres of drinking water are distributed every day. To improve the hygiene situation in the camp, the programme includes hygiene education sessions and the distribution of hygiene kits.
"Because of the increasingly large number of displaced persons and refugees, there are dramatic supply shortages in almost every area: food, water, shelter, and healthcare," says Jan Gruss, Malteser International's South Sudan programme manager. "The start of the rainy season will cause the situation to deteriorate even further, as mud roads hamper the delivery of aid."
In the county of Maridi in the southwest of the country, where Malteser International is working to strengthen the healthcare system, the Order of Malta's agency will provide food packages and household items to 7,500 people. These families will also receive seeds and agricultural tools to enable them to improve their food supplies in the long term.