Populations fleeing war and poverty
Rome, 03/07/2014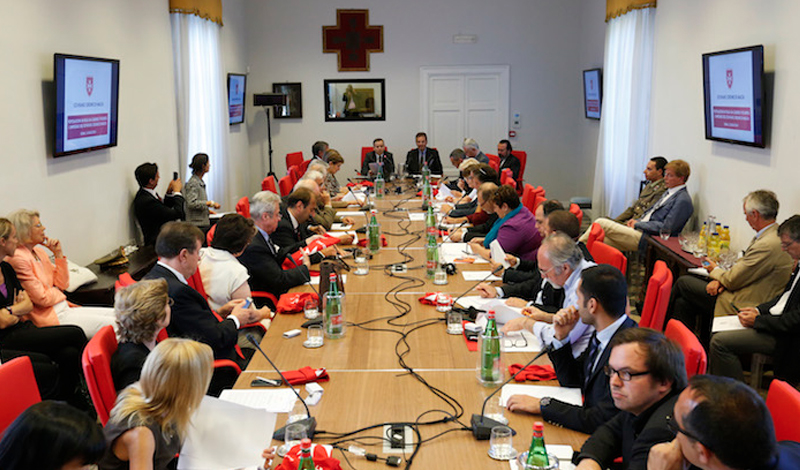 The Sovereign Order of Malta's commitment illustrated at a press conference in Rome
Populations fleeing war, persecution, poverty and destitution. Fleeing from Syria torn apart by an endless conflict, from the heart of Africa devastated by violence, to the Sicilian coast: a journey of hope that often turns into a nightmare and ends in tragedy.  During a press conference held yesterday, 2 June, in the Magistral Villa in Rome, the Sovereign Order of Malta's Grand Chancellor, Albrecht Boeselager, illustrated the projects underway in several parts of the world to assist what the UN estimates are now 51 million refugees and displaced persons. Practically an entire nation on the move.
"The victims of the present conflicts are mostly civilians, women and children, and our intervention is directly aimed at them," said the new Head of the Executive and Foreign Minister speaking to an audience of Italian, German and French journalists.
Boeselager then confirmed that the Order of Malta is active in 120 countries, including Syria and bordering countries such as Lebanon. "We mustn't forget that a third of the Lebanese population consists of refugees, with all the knock-on effects on social, health and economic conditions".
"One of our most significant projects is medical and psychological support for female rape victims in the Democratic Republic of the Congo, where sexual violence has become a weapon of warfare," said the Grand Chancellor, outlining the Order of Malta's work in the African continent where it is present in 40 countries, both with direct aid activities and with long-term assistance and support for local facilities. A work that continually adapts to the various emergencies it faces in the different countries.
The boats of hope that make such dramatic headlines in the media arrive precisely from Africa. The Order of Malta's Italian Relief Corps has been actively involved since 2008 in rescue operations for migrants sighted in the Strait of Sicily. Mauro Casinghini, National Director of the Italian Relief Corps, confirmed this yesterday when commenting on the latest official figures provided by the Italian Navy. According to these estimates, 72,683 migrants have already arrived in Italy this year, with a 700% increase in children compared to 2013.