Holland Hosts Thirty-first International Summer Camp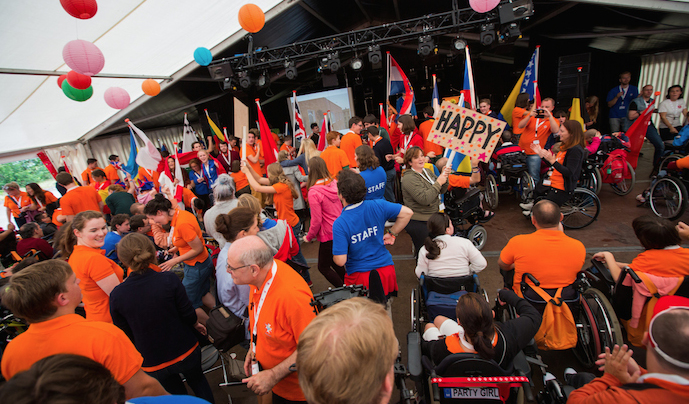 Over 500 participants in the event that removes all barriers

An unforgettable experience. This is how participants describe the Order of Malta's summer camp for the young disabled. For thirty-one consecutive years the Order's members and volunteers have been getting together for an intense week in which they take care of their disabled contemporaries, removing all physical and mental barriers. This year 23 countries – with Canada participating for the first time – will be represented.
We're in the heart of Holland, 50 kilometres south-east of Amsterdam. Here in the Harskamp army base – in the splendid setting of the De Veluwe national park – the Netherlands Association has organised the 2014 camp with the cooperation of the Dutch Ministry of Defence. It took hundreds of volunteers two years of dedication and hard work to organize this camp down to the smallest detail. The hundreds of special events include a visit to Amsterdam through its canals and to the open-air museum in Arnhem, showcase for the Netherlands' national heritage, not to mention games, dancing, competitions and excursions.
Guest of honour was the Order of Malta's Grand Master, Fra' Matthew Festing. Wearing the camp's orange T-shirt, he met participants, stopping to speak with everyone, shaking hands and posing for the inevitable photos.
Religious ceremonies were also on the agenda. Some 500 camp participants attended the mass celebrated by the Order of Malta's prelate, Archbishop Angelo Acerbi, in the Broederen church in Deventer. In his homily the prelate recalled some of the humanitarian tragedies afflicting our epoch, from Ukraine to Iraq, from Syria to the Israeli Palestinian conflict. Wars that are causing great suffering and for which the Order of Malta will always continue to provide aid to alleviate the consequences, especially for the more vulnerable groups.
The camp's flag has now passed into the hands of the Order of Malta's French Association, which is already working on the thirty-second version to be held in the naval base of the city of Brest in July 2015. Once again an memorable experience to be shared and enjoyed.