Hungary: the day the fall of the iron curtain changed history
Budapest, 21/08/2014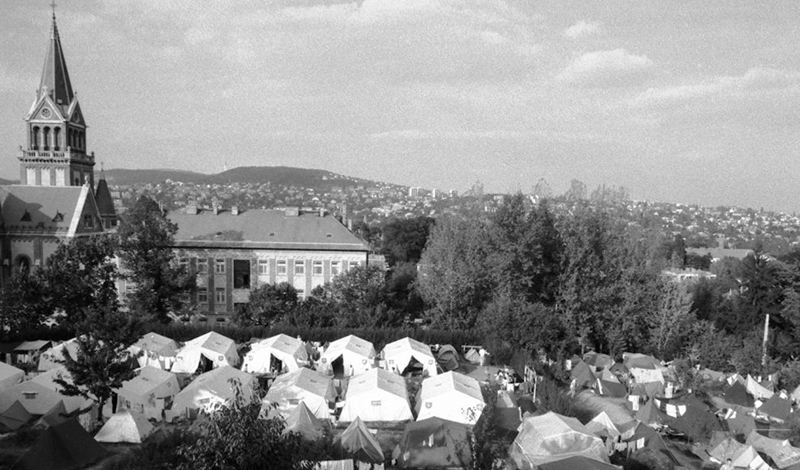 Hungary and the Order of Malta celebrate the Order's key role in supporting East German refugees. Messages of Angela Merkel and Fra' Matthew Festing.
On August 14, 1989, the Hungarian Charity Service of the Order of Malta set up in the garden of Zugliget parish church in Budapest the first refugee camp to deal with the tens of thousands of East German refugees fleeing into Hungary. For an intense period of over three months the Service cared for almost 47,000 refugees. The event, known as the Day of Welcoming, is marked every year.
In opening the 25th anniversary celebrations Father Imre Kozma, founding president of the Hungarian Charity Service of the Order of Malta, recalled receiving with Baroness Csilla von Boeselager the request of the West German Embassy that they take care of the East German refugees. He remarked, "Hungary evoked the admiration of the world in 1989; the Hungarian people had leaders with the courage to take risks, and their decisions meant the only glimmer of hope for refugees".
Video messages in support of this pivotal work were received from the German Chancellor Angela Merkel and the Grand Master of the Sovereign Order of Malta Fra' Matthew Festing. Angela Merkel praised the work of the Hungarian Charity Service of the Order of Malta and thanked Fr. Imre Kozma and his staff for helping the East German refugees in 1989, emphasising her country's gratitude to the Hungarians for contributing to German unity.
Grand Master Fra' Matthew Festing expressed the Order of Malta's pride in having taken a leading part in what became such a significant European chapter – not only for Europe but indeed for the world. He commended the Order's Hungarian Charity Service on their work, which he follows with great interest.
The two-day anniversary event also included a round table discussion with eyewitnesses from the camp of 25 years ago, an exhibition of historical documents, a concert, and a Holy Mass celebrated by Cardinal Archbishop Peter Erdő, together with Father Imre Kozma.