Hungary: medical care for families isolated by poverty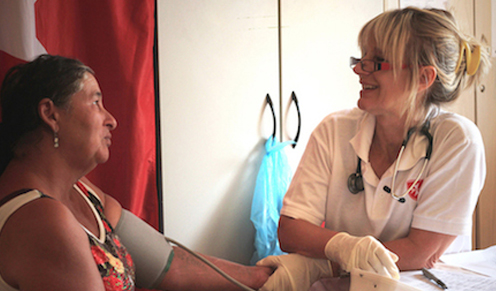 Across Hungary the Order of Malta's Charity Service (MMSz) is sending its doctors to isolated communities living in great poverty. In the Roma settlement of Monor, southeast of Budapest, a third of residents suffer from high blood pressure, many are in urgent need of dental treatment and between 15-20% of children are visually impaired.
Every week MMSz medics visit remote areas of Hungary providing families with basic health care, focusing in particular on eyesight. In the last year over 1,200 people across the country – and in neighbouring regions outside of Hungary – have received care. With portable 'hospital tents' doctors can erect pop-up clinics in any remote area regardless of electricity or water supply. Doctors return regularly to the same communities to check-up on patients.
Dr Laszlo Szalai, head of the project, explains: "Living in such isolated areas and with no money to afford surgery the visually impaired become segregated." Consequences for the young are particularly grave with children falling behind at school, having serious ramifications on their future. In the last five years the Hungarian Charity Service of the Order of Malta has provided over 3,000 pairs of glasses free of charge for children of families unable to obtain the help they need.
Founded in 1989, the MMSz has 5000 regular and 15,000 occasional volunteers. Led by Padre Imre Kozma, president of the Charity Service of the Order of Malta, it is now one of the major welfare organisations in the country and trusted partner of Hungarian institutions. It has 350 branches, 130 local volunteer groups, 210 institutes and 1200 employees. The MMSz also works in the civil defence area with its own team to assist victims of natural disasters both in Hungary and abroad. It celebrated its 25th anniversary this year.