The Conference on Central and Eastern Europe in Prague
Prague, 07/10/2014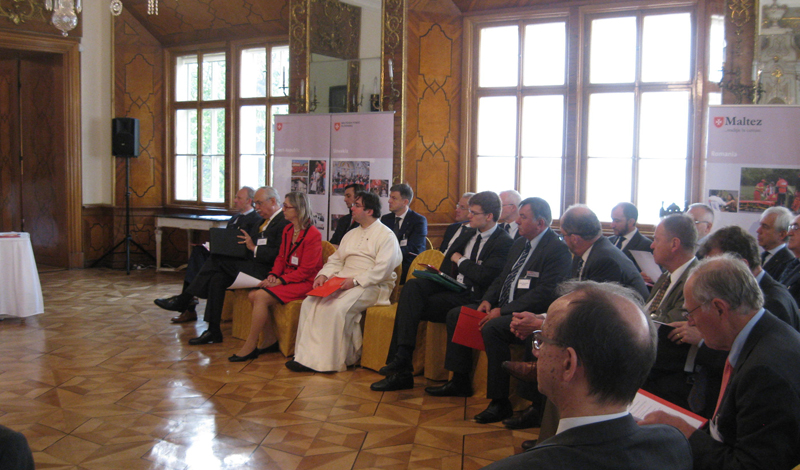 Exactly ten years after the first conference in the region, on 4 October last in Prague the Order of Malta's bodies and diplomatic missions operating in central and eastern Europe met in the Grand Priory of Bohemia. There were eighteen countries present as well as the Order of Malta's ambassadors in the region, testifying to the ever-growing synergy and cooperation between humanitarian and diplomatic activities.
Organised by the Central and Eastern Europe Committee – a special body for coordinating the Order of Malta's structures in the region – the priority objectives of the conference were to identify opportunities, to increase cooperation activities and to exchange information between the different bodies. In this regard, the importance of the cooperation agreements between the Order of Malta and many east European countries was emphasized. One example is the agreement with Hungary in 2011, guaranteeing support for the Order's work in the country and consolidating and intensifying the shared commitment in the social, healthcare and humanitarian field.
"Seeing in person the efforts that your countries are making is very encouraging for the Order's government," Grand Chancellor Albrecht Boeselager told conference participants. The Grand Chancellor then stressed the excellent "quality of the cooperation among the different bodies working in the region, also with projects going beyond national boundaries".
During the conference, opened by Grand Hospitaller Dominique de La Rochefoucauld-Montbel, the challenges a transnational strategy has to tackle, such as the programmes for integrating the Roma community within the social fabric, were also discussed.
Another matter on the table was the upcoming World Youth Day, to be held in Cracow in 2016. The Order of Malta's volunteer corps will also be participating in this event, providing first-aid for those arriving from all corners of the world. During the next hospitallers' conference – in Cologne in March 2015 – the participation of the Order's members and volunteers under a single common aegis will also be defined.
Previous to the conference on Central and Eastern Europe, Grand Chancellor Albrecht Boeselager convened an informal meeting with the Sovereign Order of Malta's ambassadors present in Prague.