The development of the Order of Malta's actions in the Fourth Asia-Pacific Conference
Rome, 20/10/2014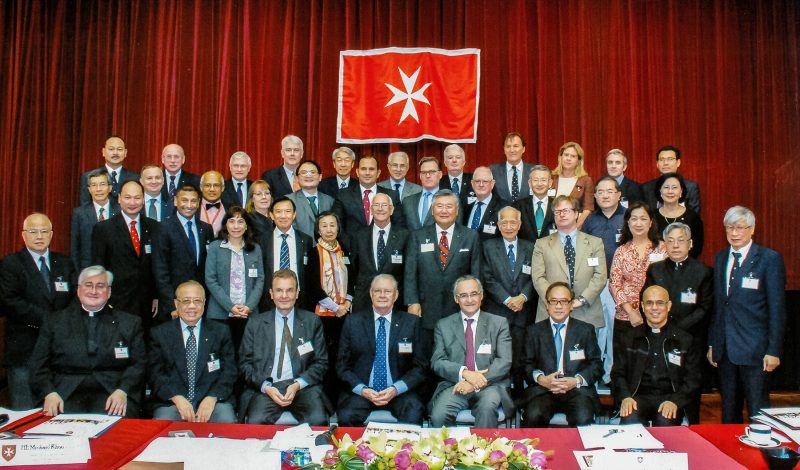 The Order of Malta's conference held in Hong Kong from 17 to 19 October was the first to be held in Chinese territory, a sign of the growing importance and growth of the Order's National Associations, Embassies and organizations in south-east Asia and in Oceania.
After the conferences in Singapore, Manila and Sydney, Hong Kong was the Order of Malta's fourth regional Asia-Pacific meeting. Albrecht Boeselager, Grand Chancellor and Dominique de La Rochefaucauld-Montbel, Grand Hospitaller participated in the event with the heads of the Australian, Philippine and Singapore Associations and representatives of the Order of Malta's units in Hong Kong, Thailand, Cambodia and East Timor. Also taking part were representatives of the Order's specialised agencies, namely Malteser International, the global relief agency developing projects in 15 countries in the Asian continent, Ordre de Malte France, operating mainly in Cambodia, Laos and Vietnam, and CIOMAL, treating leprosy patients in its specialized facilities especially in Cambodia.
The participation of the Order of Malta's representatives in South Korea was significant, since it was the first time they had attended the conference with their own delegation.
During the meeting, projects launched over the last twelve months were illustrated, long-term programmes analysed and future strategies discussed.   Topics debated included the lack of access to healthcare, the defence of life and the fight against poverty and malnutrition. The improvement in natural-disaster response capabilities was one of the subjects treated, in light of the recent increase in seismic activity, violent storms and typhoons over the entire continent.
In his speech, the Grand Chancellor stressed the importance of personal commitment in the Order's works and in particular the value of young people's involvement in voluntary organizations. The Grand Hospitaller dwelt on the alliances among the Order's bodies, on international cooperation and on the importance of joint ventures between the Order and other organizations sharing the same values. One session was devoted to bioethics and another to communications.
The Order of Malta's fifth Asia-Pacific conference will take place in autumn 2015, in a venue to be defined in the coming weeks.