For 15 years "Le Fleuron Saint Jean" on the Seine has been giving new hope to the homeless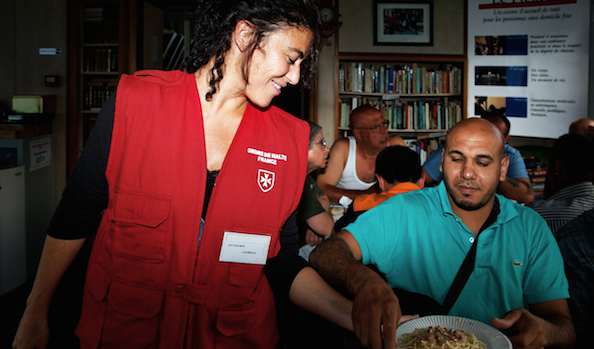 It was 1998 when the Ordre de Malte France launched an innovative project: to transform a barge into a reception centre for those living on the streets. 15 years later, from its anchorage in Paris on the banks of the Seine,  'Le Fleuron Saint Jean' continues its mission of sheltering and providing psychological support to the homeless as well as fostering their reintegration in society.
Open 365 days a year, the barge accommodates 50 men coming from very precarious living conditions and supports  them in their reintegration in society and in the labour world.  The time spent on board enables passengers to recover their strength, both physically and psychologically, and helps them to map out a life project. Thirty-eight metres long, this barge – previously used to transport sand and coal – has 25 cabins that can each accommodate two people with their dogs. "This project considers the person in difficulty as a whole.  The focus isn't only on the individual, but also on the link he creates with his dog, often his only faithful companion during the long and cold winter nights," explain the managers of the Ordre de Malte France's project.
In 2013 the barge gave shelter to 875 passengers and 40 dogs.  They were assisted by the 11 crew members: five night watchmen, two technicians, one entertainer, one social worker, the manager and his deputy. The team also has the support of 80 volunteers who take turns in working in the canteen and keeping the passengers company. The latest initiative is a social-cultural programme that includes showing films and giving writing courses.
Originally created to offer an emergency shelter for people living on the street, the need for a  more permanent support gradually emerged.  Since the end of  October 2013, the maximum time allowed for staying has risen from 4 weeks to 3 months, renewable up to six months.   "The extension of the residence period has created a more peaceful and relaxed atmosphere on board.  The passengers have the time to recover emotionally and to consider a new pathway for their reintegration," explains Monique Lauthier, manager of the project.
The social worker accompanies passengers in the process of learning about their rights,  obtaining access to healthcare and opening a bank account. A professional profile is created during a second stage with the preparation of an integration programme.
It is only 15 years old, but 'Le Fleuron Saint Jean' has already given a new hope in life to thousands of people.