The Order of Malta strengthens its action in South Sudan three years after the birth of the nation
Rome, 17/11/2014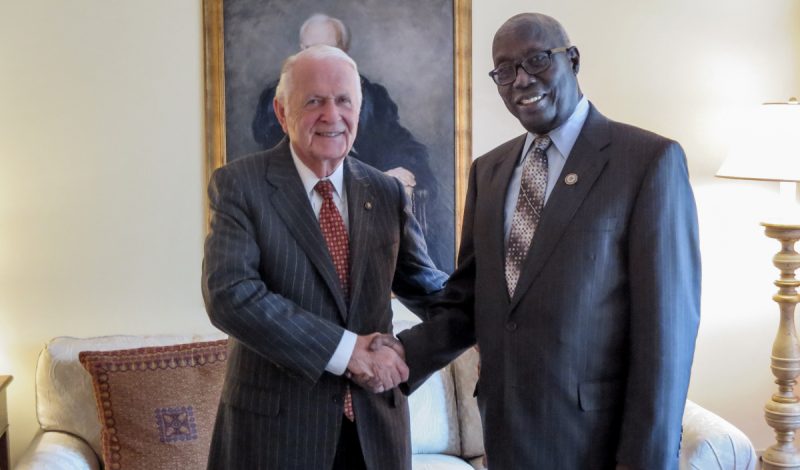 Agreement for the opening of diplomatic relations signed in New York
Founded just three years ago South Sudan is the youngest African state but its short history is marred by conflicts and violence that have caused a serious food crisis which is bringing the population to its knees.  The Sovereign Order of Malta has been active in the South Sudan region for almost 20 years with numerous projects in the healthcare sector. Its humanitarian work will now be further strengthened by the diplomatic relations opened on 12 November 2014 in the United Nations headquarters in New York.
"The agreement signed will enhance the already excellent relations with South Sudan, promoting the Order of Malta's humanitarian mission in this country" announced Ambassador Robert L. Shafer, Permanent Observer of the Sovereign Order of Malta to the United Nations, when signing the agreement to establish diplomatic relations with the Ambassador of South Sudan to the United Nations Francis Meding Deng, on behalf of their respective governments.
"The Order of Malta's commitment intensified in the wake of the dramatic humanitarian crisis that broke out after it gained independence from Sudan in 2011,  and today staff of the International Relief Agency of the Order of Malta – Malteser International – are working in the field developing projects to enhance the health conditions of the population" Ambassador Shafer added. 
The Sovereign Order of Malta therefore now enjoys bilateral diplomatic relations with 105 states. 35 are with African States, including Sudan and South Sudan.
The Sovereign Order of Malta has been operating in South Sudan since 1997.  Particularly significant is its contribution to training healthcare professionals. In Rumbek, capital of the Lakes State, Malteser International  manages a school for qualified health workers. Again in the Lakes region, the Order of Malta has built 35 medical centres for preventing the spread of diseases such as tuberculosis and HIV/AIDS and in three areas of the country it provides healthcare to leprosy sufferers.
The Sovereign Order of Malta's  international relief agency has also contributed to the restoration of numerous water sources and launched various hygiene awareness campaigns for local communities.
Following the internal conflicts breaking out at the end of 2013,  leading to a million and a half people being displaced, Malteser International stepped up its activities with the distribution of basic food such as maize and rice.
In nearby Uganda, where thousands of South Sudanese have fled since the start of the crisis, the Order of Malta is helping to improve the water supply in the Rhino refugee camp, housing some 11,000 people, as well as installing rainwater collection tanks and building wells and distribution points.