"Christmas Soup" in Lithuanian cities
Rome, 29/12/2014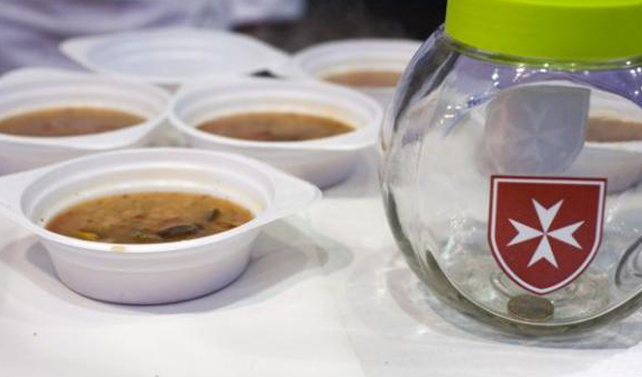 Ambassador Bechtolsheim: "An effective tool for financing social projects and involving new young volunteers"
"Christmas Soup", the campaign by the Order of Malta's Lithuanian Relief Organization, now in its ninth year, is in full operation. The project aims to alert public opinion to people in difficulty, forced to live on the margins of society. As the Sovereign Order of Malta's ambassador to Lithuania, Christian Bechtolsheim, explains "The campaign fosters new relations at the highest levels – with the President of Lithuania, the Prime Minister, the government and the local institutions – and at the same time attracts many new volunteers, in particular the young, of whom we are always in need".
"Just as important," Ambassador Bechtolsheim adds, "is that thanks to this campaign we can continue some social services we've been involved in for years, such as meals-on-wheels and homecare for the elderly in 16 towns".
Launched last November, the "Christmas Soup" campaign will run until the end of the year in as many as 29 Lithuanian cities, where citizens can eat tasty soups – a typical Lithuanian dish – and contribute to helping the elderly, the disabled, the homeless and orphans. One of the most outstanding features of the campaign was the fundraising concert held on 28 November last, broadcast live on TV with the participation of prominent Lithuanian musicians and actors.
Another highlight of the campaign is the "Best Charity Idea" competition organized by the Order of Malta's youth group in Lithuania. Dozens of schools nationwide where involved in setting up fundraising concerts, exhibitions and events.
As the ambassador explained, the "Christmas Soup" campaign has the invaluable support of Lithuanian institutions and the president of the Republic Dalia Grybauskaite also actively participated with a video.
Established in 1991, the Order of Malta's Lithuanian Relief Organization currently runs 29 groups deployed nationwide. Every day it offers meals and social assistance to the elderly and sick, organizes transport services for the disabled and manages day centres for children from disadvantaged families. "Through our action we try to tackle the most pressing social problems, helping the most vulnerable population groups," says ambassador Bechtolsheim. "These objectives are also achieved thanks to our Relief Organization's efficient management of creative tools for communicating with the public at large and with the media, for making people more aware and for fundraising," the ambassador concludes.