Fra' Matthew Festing attends 20th anniversary celebration of Malteser Albania
Shkodër, 23/01/2015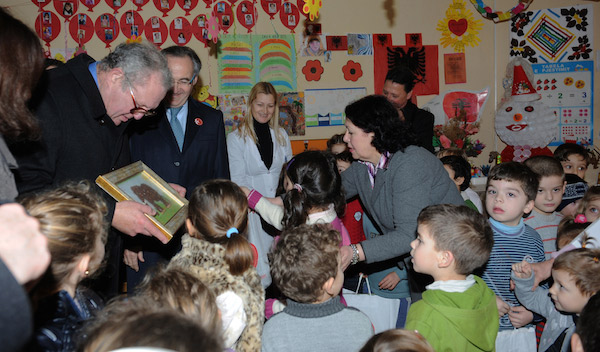 Marking the 20th anniversary of the Order's auxiliary organisation in Albania, Grand Master Fra' Matthew Festing, accompanied by Albrecht Boeselager Grand Chancellor and Dominique de La Rochefoucauld-Montbel Grand Hospitaller, visited the headquarters of Malteser Albania in Shkodër, northwestern Albania, and learned more of the many projects and activities the organisation has undertaken in these twenty years. He was received by the President of the Organisation Mons. Lucjan Avgustini, the Executive Director Maranaj Marku and the Organisation's staff, volunteers and collaborators.
Fra' Matthew Festing and his delegation also visited the Malteser Kindergarten and met the children and their teachers. The Grand Master also met with the Mayor of Shkodra, Lorenc Luka, the Archbishop of Shkodra, Mons. Angelo Massafra, and visited the Museum of the Testimony and Memory of Crimes of Communism. Mayor Luka stressed the need to remember and honour the victims of communist crimes and declared that the younger generation, and Albanians living abroad, must be told about them – about the sentences and what prison conditions were like under the dictatorship in Albania.
The Grand Master expressed his great thanks to Malteser Albania for their long-serving contribution and dedication to helping those in need and Fr. Stefan Schwarz, the Organisation's founder, graciously replied.
The previous day, Fra' Matthew Festing was received by the President of Albania, Bujar Nishani, the President of the Parliament, Ilir Meta and the Prime Minister, Edi Rama. During the meeting, the Albanian leaders expressed their gratitude and that of the Albanian people for the valuable contribution given by the Albanian Organisation of the Order of Malta over the last twenty years and its continuance.
Established in 1995, Malteser Albania continues to develop its activities in medical, social and civil protection fields.