The Grand Master visits Portugal
Rome, 04/05/2015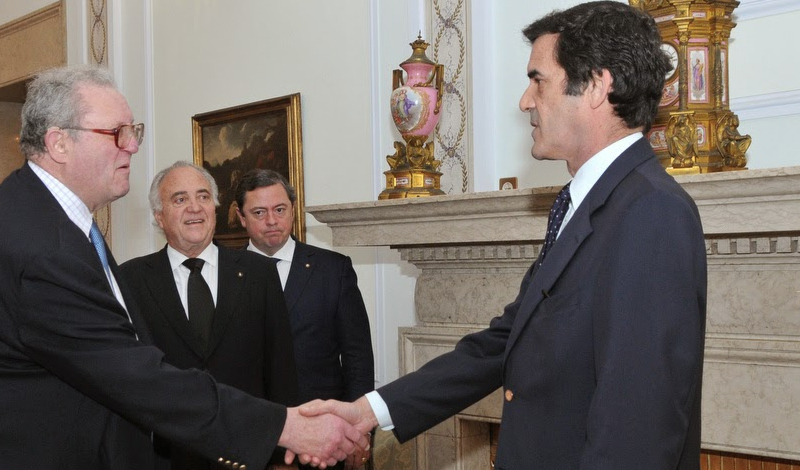 The Grand Master of the Sovereign Order of Malta went to northern Portugal on 28, 29 and 30 April. In Oporto, Fra' Matthew Festing was received in the town hall by the city mayor, Rui Moreira. After the luncheon offered in his honour by the president of the Portuguese Association, Augusto de Albuquerque de Athayde, the Grand Master had talks with the Minister of Labour and Solidarity, Pedro Mota Soares and the Secretary of State for Foreign Affairs, Luis Campos Ferreira.
The following day, the Grand Master first visited the São João hospital, with which the Order's Portuguese Association cooperates in a series of initiatives for the needy, and then inaugurated the new offices of the Order's Portuguese volunteer corps which for years has been offering healthcare to pilgrims who go on foot to the sanctuary of Fatima.
Particularly significant was the mass celebrated in the afternoon of 29 April in the Leca do Balio monastery. During the function, celebrated by the Bishop of Oporto, António Fonseca dos Santos, in the presence of 500 people, the Grand Master received the solemn vows of Fra' Ruy Gonçalo de Valle Peixoto de Villas Boas.
The last appointment, before leaving for Lourdes to participate in the Order of Malta's international pilgrimage, was the visit to the Corpus Christi convent in Vila Nova de Gaia, headquarters of the Order's Fra' Manuel Pinto da Fonseca Foundation. Promoter of important charitable initiatives in northern Portugal, the foundation also sponsors numerous activities supported by the Order of Malta's embassy in African countries where Portuguese is the official language.