Medical and social activities in Poland, at the centre of the visit of the Grand Hospitaller
Rome, 26/05/2015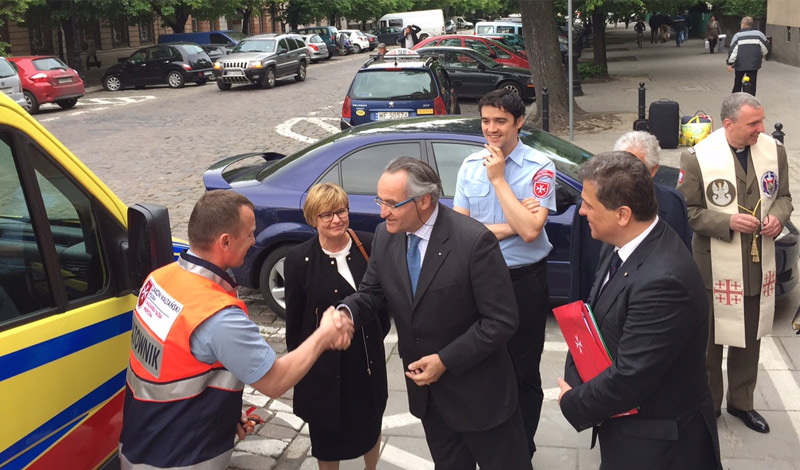 The Grand Hospitaller of the Sovereign Order of Malta, Dominique de La Rochefoucauld-Montbel, visited Warsaw on May 21-22. The agenda included meetings with the Vice-Minister for Health Igor Radziewicz Winnicki, the Minister for Culture Malgorzata Omilanowska and with the Vice-Minister for European Affairs Henryka Mościcka Dendys.
"I wish to express my pleasure at celebrating with you the 25th anniversary since the establishment of diplomatic relations between Poland and the Sovereign Order of Malta, and to note that our ties are not only diplomatic," the Grand Hospitaller said. "In Poland we have two hospitals, four medical centres, four centres for severely physically impaired patients, homes for the mentally disabled and social medical centres in many parts of the country." During his visit, the Grand Hospitaller also met with the Apostolic Nuncio to Poland, Archbishop Celestino Migliore, and Cardinal Kazimierz Nycz, Archbishop of Warsaw.
On May 21, the Grand Hospitaller took part in a service at the Field Cathedral of the Polish Army (also known as the Church of Our Lady Queen of the Polish Crown). During the ceremony an ambulance funded by the Foundation for Maltese Medical Aid in Warsaw, an auxiliary organisation of the Order of Malta, was blessed. Together with the Order's ambassador to Poland, Vincenzo Manno, the Grand Hospitaller opened the new Chancellery of the Embassy of the Order of Malta in the "Rezydencja Maltańska" estate in Warsaw.