A Photography Book Recounting the Order of Malta from 1880 to 1960
Rome, 03/07/2015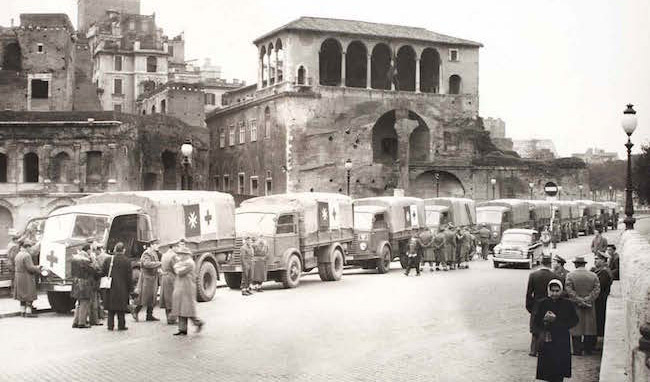 "Ordine di Malta-Ordre de Malte. Fotografie inedite-Photographies inedites 1880-1960" is a book in Italian and French recently brought out by the publishing house Gangemi. It contains two hundred unpublished photographs from the archives of the Grand Magistry and those of the Grand Priories and National Associations, taken between the end of the 19th and the early 20th century.
The book was first presented to the public in Rome on 30th June in Gangemi's exhibition and conference room by Bailiff Fra' John Critien, Member of the Sovereign Council, Msgr. Fra' Luigi Michele de Palma, Secretary of the Pontifical Committee of Historical Sciences and Prof. Riccardo Paternò, Magistral Commissioner of the Order of Malta's Association of Italian Knights, with Adriano Monti-Buzzetti, RAI journalist, as moderator.
The collection of carefully selected and restored photographs is a factual and tangible testimony, away from the spotlight on heroic feats, in which "the Order of Malta's best face is mirrored," as Msgr. Luigi Michele de Palma put it. "We now have a richer knowledge of this epoch," stated Fra' John Critien, "relatively little has been written about this period in the Order of Malta's life and works and these photographs document its strong expansion throughout the world".
The photographs illustrate the spiritual life and charitable activities of one of the oldest institutions in the world, with a particular emphasis on the work of its volunteers, mostly doctors and nurses, during the two World Wars. Despite the vast bibliography of works devoted to the Order of Malta's history and works, this volume in some way presents an hitherto unpublished aspect. The photos testify to the Order of Malta's humanitarian and social role during that tormented period – its hospital trains transporting the wounded, its numerous medical centres operating on the various war fronts, its rescue units and its hospital ship, the Regina Margherita.
There are numerous "institutional" photographs in the book: audience with popes and kings, state visits, the election of a Grand Master, group photos and individual formal poses of professed knights and government personalities of the time. Pictures which, behind the always fascinating patina of time, relate the historical continuity of an institution forever faithful to its time-honoured values.
This challenging project, requiring almost two years to complete, is the result of a cooperation between the Order of Malta's Grand Magistry and its French Foundation.
The book is on sale in bookshops, on the Gangemi Editore website and on Amazon.