Libyan delegation in Rome to discuss immigration and mutual challenges
Rome, 08/10/2015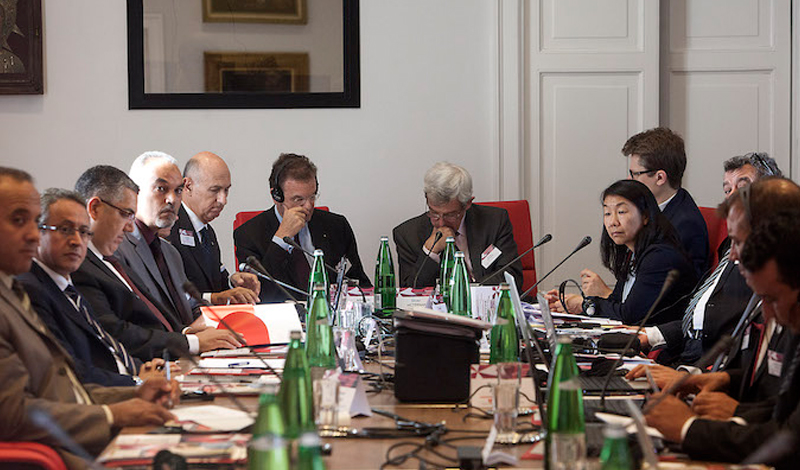 Meeting of senior representatives from Tobruk and Tripoli takes place at Order of Malta Magistral Villa
A meeting organised by British think tank 'Forward Thinking' and the Sovereign Order of Malta took place this morning in Rome, at the Magistral Villa of the Order of Malta. The meeting was held in the presence of two Libyan delegations respectively representing Tobruk and Tripoli.
The meeting was centred around the challenges posed by the escalating migration influx and the fight against people smuggling on Libyan soil. Shoko Shimozawa, Deputy-Director of the United Nations High Commissioner for Refugees for the MENA region (Middle East and North Africa) also participated in the meeting.
The meeting identified the most immediate challenges to be faced – from a humanitarian, healthcare and security perspective – and defined an agenda for a conference to be extended to other countries and held in the coming weeks. This objective was strongly shared by both delegations present.
"I hope that today's meeting will form the foundation of a new constructive dialogue capable of identifying and implementing effective solutions, both in the short and long term, to allow Libya to move forward with a peace-building process", declared the Grand Chancellor of the Sovereign Order of Malta Albrecht Boeselager as he opened the meeting. "The Order of Malta renews its commitment to supporting this process with the objective of alleviating the suffering of the Libyan population, creating secure conditions in the country and bringing to an end the tragic loss of life in the Mediterranean", said Boeselager.