The Grand Chancellor's official visit to Romania
Rome, 23/10/2015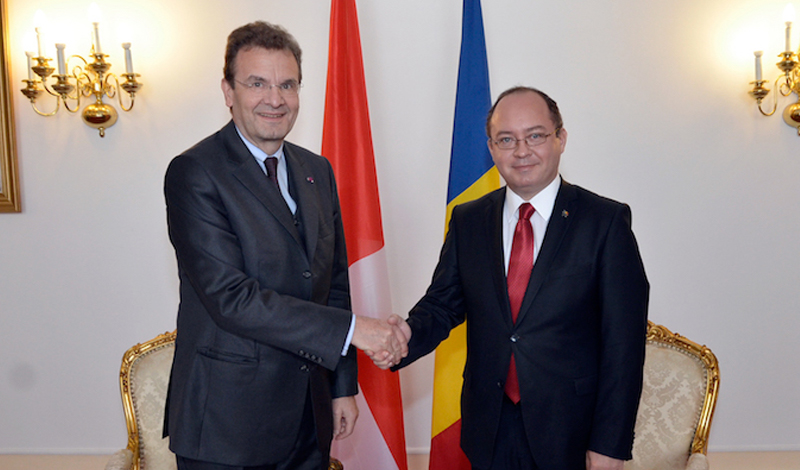 On 21 October the Sovereign Order of Malta's Grand Chancellor, Albrecht Boeselager, made an official visit to Romania where he was received by the Foreign Minister, Bogdan Aurescu. Discussed during their talks were European and international issues, such as the refugee crisis and the situation in the Middle East and North Africa.
During a joint press conference the two ministers confirmed the good relations between the Sovereign Order and Romania. Bogdan Aurescu thanked the Grand Chancellor for the Order of Malta's social and humanitarian work in Romania over the last 25 years, covering health and social care for the elderly, the disabled and disadvantaged, as well as integration initiatives for the Roma people. In this regard, minister Aurescu said: "Today we've decided to reopen the agreement signed in 2002 on social and humanitarian cooperation, to update, improve and adapt it to our dynamic bilateral relations".
The Grand Chancellor announced the intention to work on a new cooperation agreement that would "create the foundations for humanitarian initiatives not only in Romania but also outside the country, in response to the growing humanitarian emergencies".  Also discussed was the possibility of consolidating cooperation in countries such as Lebanon to support the local populations and Syrian refugees in the country.
In the morning the Grand Chancellor was received by Prime Minister Victor-Viorel Ponta who, thanking the Order of Malta for its work in Romania, expressed the wish to celebrate the 25th anniversary of the resumption of bilateral diplomatic relations in 2016 with the signature of a new cooperation agreement.
Before returning to Rome, Albrecht Boeselager visited the headquarters of the Order's Volunteer Corps (SAMR) in Bucharest for a meeting with its managers. The Order of Malta operates in Romania with 1,200 volunteers and 60 employees through 18 delegations. SAMR runs over 100 permanent social programmes for helping people in difficulty, the homeless, the elderly and orphans. It also organizes activities for the Roma ethnic minority.