The Order of Malta at the Pope's General Audience for the Romani World Pilgrimage
Rome, 27/10/2015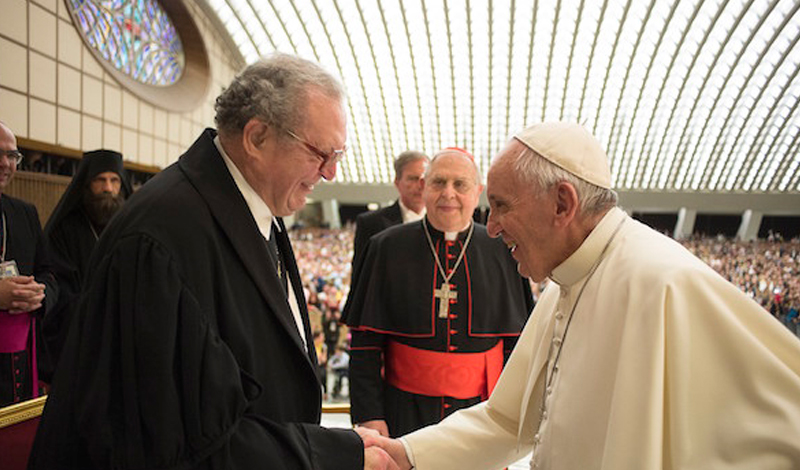 The Order of Malta's ambassador to the Roma people accompanied a group of some 250 pilgrims arriving from six countries
The battle against discrimination and support for the integration of the Roma minority in civil society saw the Order of Malta yesterday in the Vatican for Pope Francis' general audience for the Romani World Pilgrimage. Promoted by the Pontifical Council for the Pastoral Care of Migrants and Itinerant People, the Sovereign Order of Malta's ambassador to the Roma people, Franz Salm-Reifferscheidt, accompanied a group of some 250 children and adults from Romania, Albania, Croatia, Slovenia, Slovakia and Hungary.
"A fantastic opportunity for the children, the adults and the volunteers," said Ambassador Franz Salm-Reifferscheidt at the end of the three days in Rome, beginning with a visit to the most important historical monuments and continuing with a Via Crucis at the Coliseum and mass in the New Sanctuary of the Madonna del Divino Amore. This was followed by a tribute of dances and music with a circus set up in the Roman countryside around the sanctuary and a gypsy music concert in the church of Santa Maria in Trastevere, a splendid example of Romanesque architecture and one of the oldest churches in the capital.
The high point of the event was the audience yesterday morning with the Holy Father who – to commemorate the 50th anniversary of Blessed Paul VI's visit to the Romani camp in Pomezia – received some five thousand pilgrims arriving from all over the world. The Grand Master of the Sovereign Order of Malta, Fra' Matthew Festing, was also present in the Paul VI Audience Hall. The Order has many projects for promoting the education of Romani children – historically with a high rate of school dropouts – and their integration and entry into the labour market. It also organizes writing, carpentry and weaving courses in various east European countries and support for young people along their educational pathway.
Photos 1-3 © Osservatore Romano