Director General United Nations Office in Vienna received by the Grand Master
Rome, 28/10/2015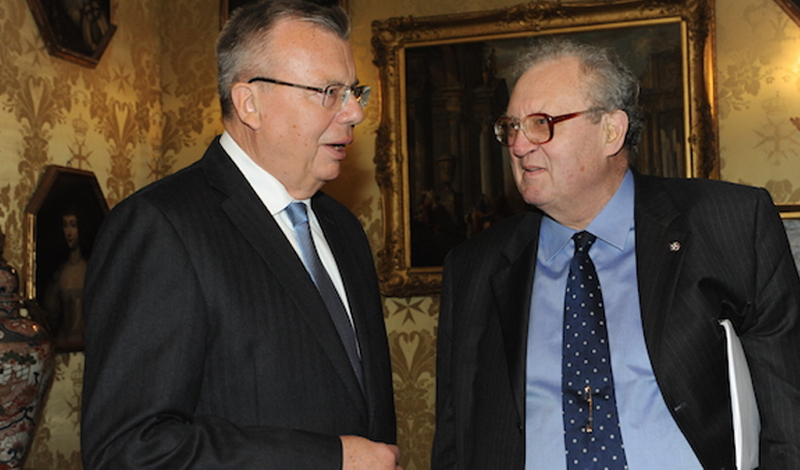 During the meeting human trafficking and refugee assistance were discussed
The Director General of the United Nations Office in Vienna and Executive Director for the office on drugs and crime (UNODC), Yuri Fedotov, was received yesterday by the Grand Master of the Sovereign Order of Malta, Fra' Matthew Festing.
The meeting, which took place in a very cordial atmosphere at the Magistral Palace in Rome, focused in particular on the refugee crisis and the concern for the increase in human trafficking and modern slavery.
Rise in terrorism and the need to combat illicit financial sources such as trafficking of cultural artefact were also discussed, together with the need to improve the very bad detention facilities worldwide to avoid them becoming breeding grounds for criminal action and terrorism.
The Grand Master, who was accompanied by the Grand Chancellor Albrecht Boeselager, illustrated the Order of Malta's assistance to refugees fleeing wars and the projects underway in the violence-ridden neighbouring countries and all along the perilous journeys across the Mediterranean sea and through the Balkan route.
Yuri Fedotov expressed his appreciation for the cooperation between UNODC and the Order of Malta including the HIV prevention project among vulnerable populations and its support to the new "Youth Initiative" programme focusing on drug prevention and health education through the use of social media.