The President of Lithuania on an official visit to the Sovereign Order of Malta
Rome, 29/10/2015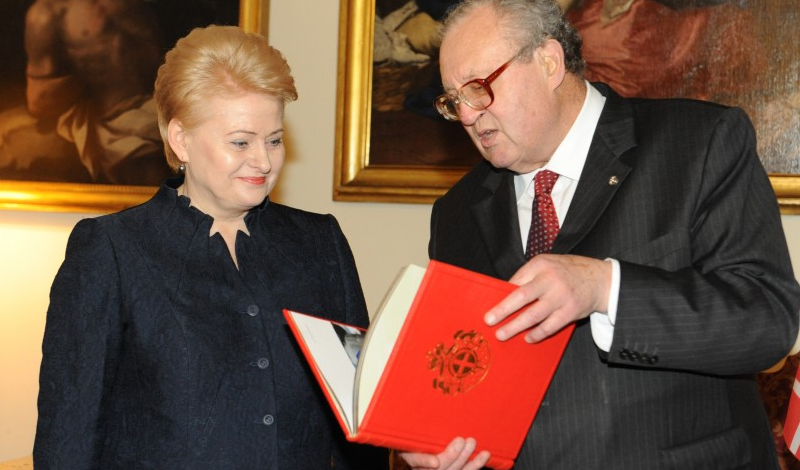 The Grand Master of the Sovereign Order of Malta, Fra' Matthew Festing, received the President of Lithuania, Dalia Grybauskaitė, in the Magistral Palace in Rome on the afternoon of 28th October.
Stressing the close relations of friendship and cooperation linking Lithuania and the Sovereign Order of Malta from when diplomatic relations were opened over 20 years ago, the Grand Master recalled that: "almost a thousand years since our foundation, the Sovereign Order of Malta's essential role remains that of peacefully affirming and disseminating the virtues of charity, fellowship and solidarity. In these terrible times in which war and terrorism are forcing millions of people to flee from the Middle East and Africa to seek refuge in Europe, the Order of Malta has multiplied its efforts to receive and assist the refugees".
"I am particularly proud to say," the Grand Master continued, "that today, with over 900 volunteers, the Order of Malta's relief corps in Lithuania is one of the largest voluntary service organizations in the country, active in thirty towns. It provides a wide range of assistance to the weaker sections of society thanks to the invaluable support of the Lithuanian authorities, to whom we express our deepest gratitude".
In her speech, the president of Lithuania thanked the Sovereign Order of Malta for the "charitable activities it has been carrying out in my country for over 20 years, teaching my people the significance of voluntary service and showing us how we can help others and share what we have. It hasn't been easy. It has taken a lot of time not only to learn to receive but also to learn to give. Today I am proud that the Lithuanians are giving and supporting the Order of Malta for the value of its humanitarian activities. This is why I'm very happy to help the Order's initiatives in our country by participating in and organizing events for the projects addressed to the weaker sections of the population".
During the meeting, Fra' Matthew Festing presented Dalia Grybauskaitė with the Order's Collar pro Merito Melitense "in recognition of her role in promoting the principles of human solidarity and as a sign of our gratitude for her considerable commitment in strengthening relations between Lithuania and the Sovereign Order of Malta". President Grybauskaitė conferred the highest Lithuanian honour on the Grand Master, the Order of Vytautas the Great with Golden Chain.