First Visit of a Grand Master to the Republic of China (Taiwan)
Rome, 09/11/2015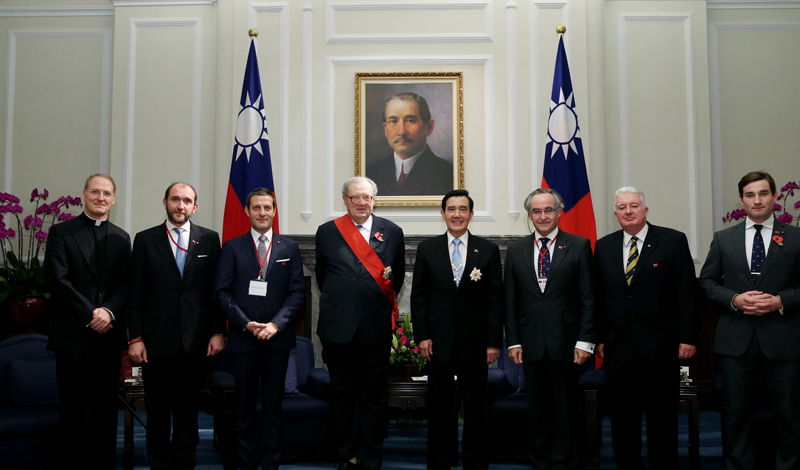 Numerous humanitarian cooperation projects
The Grand Master of the Sovereign Order of Malta, Fra' Matthew Festing, visited the Republic of China (Taiwan), where on 5 November he was received by the President of the Republic Ma Ying-jeou. The Grand Master was the last foreign personality to meet Taiwan's President Ma on the eve of his historic meeting – the first in 66 years – with the Chinese President Xi Jinping, held on 7 November in Singapore.
The focus of the talks with President Ma – the first on this level after the visit of the then Grand Chancellor and Grand Hospitaller in 2012 – was the international situation and the promotion of bilateral cooperation for humanitarian, healthcare and social interventions. To testify to the current excellent relations, the valuable cooperation already underway in the health sector in Vietnam was recalled, in particular in the Ho Chi Minh City hospital, and the support Taiwan has offered to various humanitarian projects promoted by the Order's embassies in Bulgaria, El Salvador and Serbia since 2013.
President Ma offered a banquet in honour of the Grand Master and the Order's Delegation, which included Grand Hospitaller Dominique de La Rochefoucauld-Montbel who, during the visit, had talks with the Minister of Health and with the Secretary General of the International Cooperation Development Fund.
In his speech, President Ma recalled the frequent meetings between the Sovereign Order of Malta and Taiwan in recent years and their shared ideals of peace, democracy, promotion of human rights, of medical aid and healthcare, especially in developing countries. The Grand Master and President Ma exchanged decorations of the highest rank to stress their mutual appreciation and common commitment to develop, wherever possible, humanitarian cooperation.
The Minister of Foreign Affairs, David Y. L. Lin, who had visited the Grand Magistry in October 2014, in turn offered a luncheon in honour of the Grand Master and his Delegation.
In the Catholic University Fu Jen – re-established in Taipei in 1959 by desire of the Holy Father John XXIII – the Grand Master, received by Rector Prof. Chiang Han-sun and by faculty members, gave a speech in which he illustrated the Order of Malta's social-health activities and humanitarian projects running in 120 countries. On this occasion, the Grand Master was presented with an honorary degree in philosophy.
During his visit to Taiwan Fra' Matthew Festing also visited the exhibition commemorating the 70th anniversary of the Republic of China's actions in World War II and the famous National Palace Museum.