The Sovereign Order of Malta Observer to the Central American Integration System (SICA)
Rome, 01/12/2015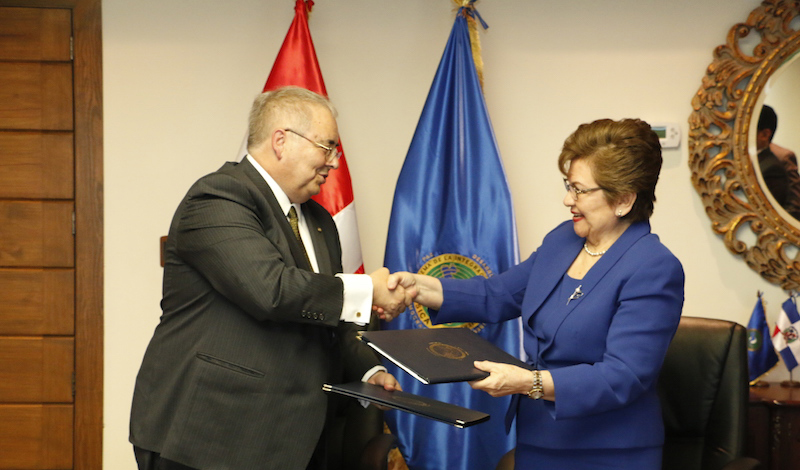 On 26 November, the Sovereign Order of Malta was admitted as Extra-Regional Observer to SICA, the Central American Integration System. The economic, cultural and political organization that unites Guatemala, El Salvador, Honduras, Nicaragua, Costa Rica, Panama, Belize and the Dominican Republic will allow the Sovereign Order of Malta – already present with its own associations and diplomatic missions in these countries – to participate actively in regional medical and sanitation programmes and to intervene more effectively during natural disasters. Thanks to its new role, the Order can help to fight poverty and to improve the living conditions of the central American populations and defend human rights.
The agreement was signed in Antiguo Cuscatlán, headquarters of the SICA General Secretariat in the Republic of El Salvador, by the Secretary General of SICA, Victoria Velásquez de Avilés, and by the Vice President of the Order of Malta's Government Council, Juan Tomas O'Naghten y Chacón.
The Sovereign Order of Malta's ambassador to El Salvador, Maria Emerica Cortese, was present at the signing ceremony and said: "this agreement allows the Order of Malta to offer an important contribution based on its experience, and in particular that of Malteser International (its worldwide relief agency), in prevention and assistance during natural disasters, all too frequent in the entire central American region".
As an observer, the Order will not have the right to vote but will have the right to speak in all the debates involving SICA and will have access to information and negotiation channels on motions for resolution, on policies, programmes and regional projects.