Refugee Crisis: New Operation for Order of Malta Italian Relief Corps in the Aegean Sea
Rome, 28/12/2015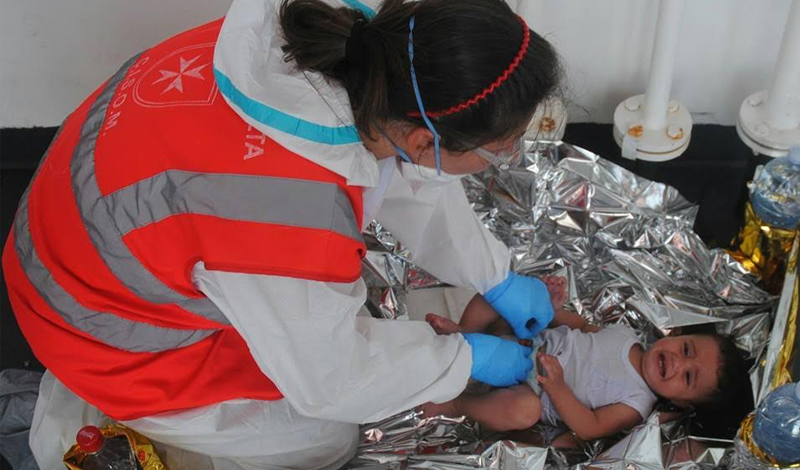 59 people, including 6 children, were rescued this morning
Aegean SAR Operation is the name of the Order of Malta's latest humanitarian mission. As part of an agreement the Order of Malta's Italian Relief Corps is now working onboard a Migrant Offshore Aid Station (MOAS), in close cooperation with the Greek Coastguards and local authorities. This is an important rescue operation for refugees fleeing conflict along the Aegean Sea route between Turkey and Greece; a shorter distance but not for this any safer than the Strait of Sicily. The teams onboard the Responder vessel – equipped for rescue at sea – have been operative since Christmas Eve. On Monday morning they saved the lives of 59 migrants, including 6 children, off the coast of the island of Lesvos.
Since 2008, the Order of Malta's Italian Relief Corps has been providing medical aid on board the Italian Coastguard and Customs Officers vessels and, since the "Mare Nostrum" mission with the Italian Navy, guaranteeing prompt and effective interventions in the Strait of Sicily. During these seven years, its doctors and nurses have developed specific skills for providing aid at sea, even in extreme weather conditions. The Order of Malta's teams have assisted over 40,000 refugees and migrants.
"This new humanitarian rescue mission, in the full spirit of mercy, will once again make it possible to save many lives", said Mauro Casinghini, Director of the Order of Malta's Italian Relief Corps. "I am certain that the collaboration with the Greek authorities in this emergency will be the sign of solidarity that these men, women and children need to give them hope. This is a mission that highlights and renews the Order of Malta's 900-year old commitment to help people in need."
"Over the past few weeks a large number of people, including many children, have died at sea off the island of Kos. Winter and the adverse weather conditions are worsening the situation in the Aegean. Hundreds of refugees in flight from the war are continuing to risk their lives in this stretch of sea. We have to put an end to this humanitarian crisis. Nobody deserves to die at sea," said the founder of MOAS, Christopher Catrambone.
The Migrant Offshore Aid Station (MOAS) is a humanitarian organisation specialised in search and rescue at sea for refugees and migrants, started by entrepreneurs Christopher and Regina Catrambone. Since it launched its first operation, MOAS has rescued 11,685 people in the central Mediterranean. The organisation has until now operated on board the Phoenix, a 40-metre boat equipped with two rubber dinghies, two Schiebel camcopter drones and a team of professional rescuers, doctors and paramedics. Since December 2015, MOAS has been operating in the Aegean Sea on board the Responder, a second 51-metre ship with two high-speed rescue vessels on board. In 2016, alongside the rescue mission in the central Mediterranean, MOAS will also launch a humanitarian project in the Gulf of Bengal.