High-level roundtable to discuss the "rejection of the globalisation of indifference" takes place in the Magistral Villa, Rome
Rome, 26/01/2016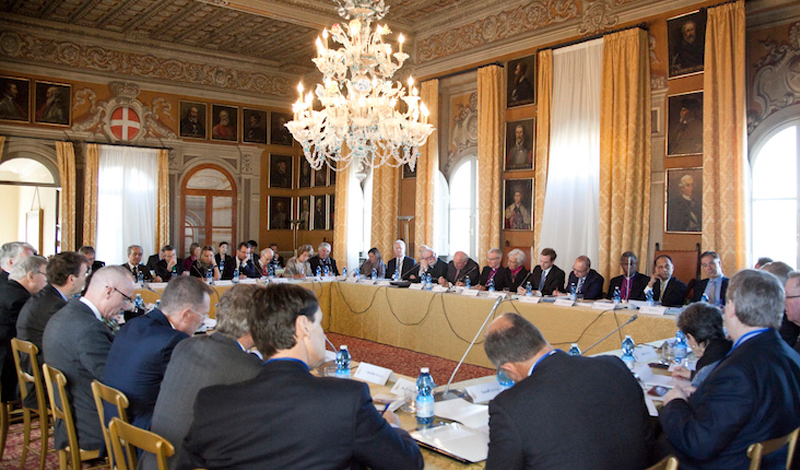 The event was organized by the Global Foundation.
Inspired by the many appeals of Pope Francis to reject the "globalisation of indifference", last 17 and 18 January the Sovereign Order of Malta hosted in its Magistral Villa in Rome a high-level round table called: "Rejecting the globalisation of indifference – mobilising for a more inclusive and sustainable global economy". The meeting's aim was to discuss and develop more human-centered strategies in the field of economic governance.
Organized by the Global Foundation, an Australian based nonprofit organization committed to strengthening dialogue and mutual understanding amongst communities in the interest of long-term sustainable development, the Rome event was attended by Vatican high-level representatives and international leaders.
Amongst these were the heads of the International Monetary Fund, Christine Lagarde, and of the World Bank, Bertrand Badre, Vatican officials such as Cardinals Pietro Parolin, the Secretary of State, and George Pell, Prefect of the Secretariat for the Economy and many other political and economic international leaders.
In his speech the Vatican Secretary of State Cardinal Parolin highlighted the importance of the meeting, which is "a space for encouraging an increase in global awareness of the serious problems of environmental degradation and exclusion".
"The motivation for the roundtable meeting is Pope Francis' encyclical Laudato Si' and the intention is to encourage a more profound and positive basis for the world economy" affirmed the Grand Chancellor of the Sovereign Order of Malta Albrecht Boeselager in welcoming the guests.
The outcome of the meeting will lay the foundations for possible action points incorporating the high-level principles discussed with concrete proposals. As affirmed by the Global Foundation secretary general Steve Howard, the "Rome roundtable can provide a model for future engagement so that leaders of faiths and business can work together in partnership on a common ethical basis to solve major global issues".