Order of Malta leaders in healthcare, social and humanitarian issues meet in Valletta to review world health concerns and plan future care
Malta, 12/03/2016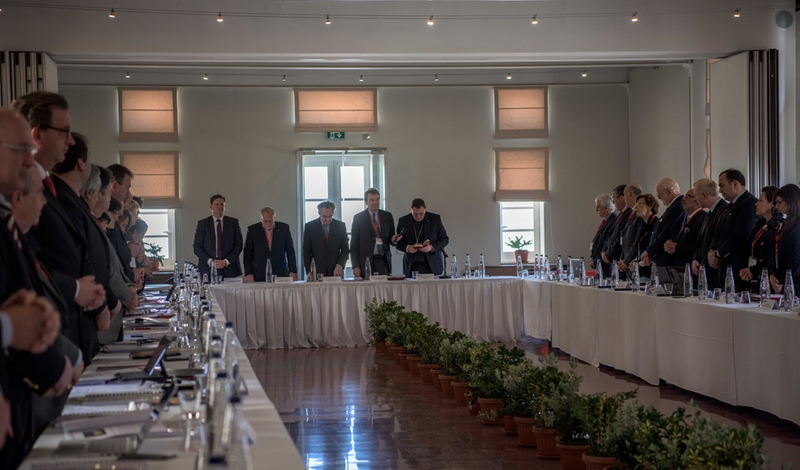 Grand Master Fra' Matthew Festing attends the conference
As the world faces the greatest humanitarian crisis since the mid 20th century, senior officials in the Order of Malta met over two intense days of work to review their charitable works over the last 12 months, including support for migrants, asylum seeker and IDPs. The Order operates in a related series of support, from care for those in countries affected by wars, civil conflict, natural disasters, to care for refugees along their paths of flight, to their arrival in host countries.
The conference convener, Grand Hospitaller Dominique de La Rochefoucauld-Montbel, Minister of Health and Social Affairs for the Sovereign Order, told the conference that the works of the Order go from strength to strength and that the range of activities undertaken in the many countries where the Order has a presence, reflect the needs in different parts of the world. 'Put your heart in your fingertips,' he said, 'as this is how we must work with those who need our care.' A current international focus is on work with migrants, an area in which the Order is very active, but that the Order's projects are of a wide reach – from projects with Europe's Roma, to help for the elderly, for the handicapped, the homeless and for children in need.
Grand Chancellor Albrecht Boeselager, in warning once again that the migrant problem will not go away for years, stated the need of all affected nations to put policies in place to protect the victims, both for their survival and for their human rights. Ambassador Stefano Ronca told the conference that the Order will present a set of guidelines for humanitarian care at the forthcoming World Humanitarian Summit in Istanbul this May.
The leaders of Order charitable activities outlined their current activities, profiting from the shared experience which helps to develop care strategies for the future, both at national and local level. Special projects include prison ministry in a number of countries, soup kitchens for the homeless, new plans for hospices where those in need can receive medical checks, food, clothing, a shower. One homeless guest in Belgium, after attending an Order hospice in Brussels said 'Now I feel like a princess.'
The President of the Maltese Association of the Order, Daniel Testaferrata, expressed his Association's pleasure to be the conference hosts, and Hospitaller Kevin Dingli outlined the many local projects underway for underprivileged children and the lonely elderly in the island. A recent initiative is training guide dogs for the blind.
The Grand Master, Fra' Matthew Festing, thanked the participants for their energy, commitment and enthusiasm, in the important work they are carrying out, all over the world, to help society's marginalised.