Migration and Cooperation on the Agenda for the President of Costa Rica Luis Guillermo Solís and Fra' Matthew Festing
Rome, 27/05/2016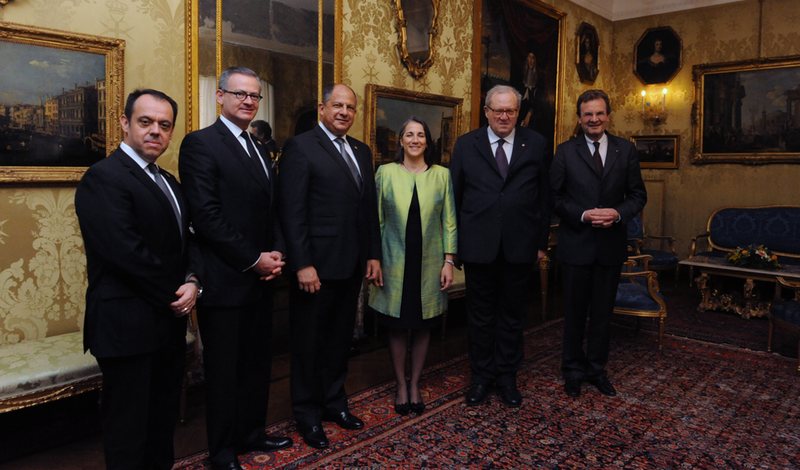 The President of Costa Rica Luis Guillermo Solís paid an official visit to the Grand Master of the Sovereign Order of Malta Fra' Matthew Festing on Friday May 27, 2016.
During a working meeting with the respective delegations in the Palazzo Magistrale it was agreed to further strengthen bilateral cooperation. The subject on the agenda was the Order of Malta's humanitarian aid to the migratory flows that have repeatedly arrived in Costa Rica. Because the border with Nicaragua has been closed, African migrants attempting to reach the United States have become blocked in this country.
Fra' Matthew Festing illustrated to President Solís the Order of Malta's humanitarian work in numerous European, African and Middle East countries assisting refugees, asylum seekers and internally displaced people. He also reaffirmed the Order of Malta's intention to strengthen its cooperation and friendship with Costa Rica by providing experience and know-how to guarantee humanitarian assistance, protect human dignity and promote tolerance.
The Grand Master said that the Sovereign Order of Malta's recent entry as observer in the Central American Integration System (SICA) represents an important instrument for offering its experience in natural disaster prevention and assistance programmes. During the talks, the renewal of the cooperation agreements signed in 1985 and 2002 was discussed and a new accord is being prepared.
On this occasion both the President and the Grand Master wanted to recall the figure of the recently deceased Antonio Lombardi, Ambassador of the Sovereign Order of Malta to Costa Rica. His commitment to strengthening bilateral relations was praised as well as his efforts to develop social projects in the Central American republic.
The meeting confirms the excellent relationship between Costa Rica and the Sovereign Order of Malta, sealed by over 60 years of diplomatic relations established in 1953.
Among the other authorities present, for Costa Rica there was the Foreign Minister Manuel González, the Minister for Foreign Trade, Alexander Mora, and the first lady, Mercedes Peñas; for the Sovereign Order of Malta, the Grand Chancellor Albrecht Boeselager and Diplomatic Counsellor Alberto Leoncini Bartoli.