Cardinal Sarah admitted to Order of Malta with the rank of Bailiff Grand Cross of Honour and Devotion
Rome, 10/06/2016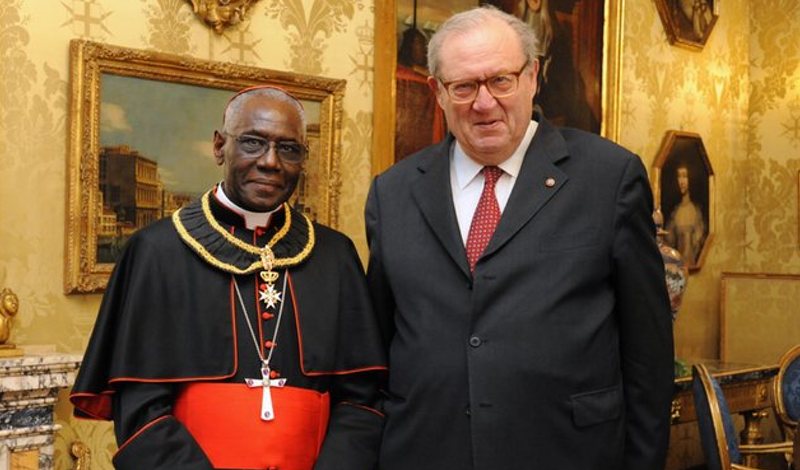 Cardinal Robert Sarah, Prefect of the Congregation for Divine Worship and the Discipline of the Sacraments, was received yesterday by the Grand Master of the Sovereign Order of Malta, Fra' Matthew Festing, in the Magistral Palace. The special occasion was the admission to the Order of the Cardinal with the rank of Bailiff Grand Cross of Honour and Devotion.
"You can rest assured that as a member, I will ensure that the ideals which have been the bedrock of this Order for over one thousand years continue to be upheld and promoted," Cardinal Sarah said. He then recalled the many times in history when the Order and its members have made the ultimate sacrifice to safeguard faith and liberty.
"Today members of the Order make great sacrifices to defend protect and raise up some of the poorest and most vulnerable people on our planet" he stated.
With a licentiate in theology at the Pontifical Gregorian University in Rome and a licentiate in Scripture at the "Studium Biblicum Franciscanum" in Jerusalem, Cardinal Sarah served the Church in his home country as the rector of the minor seminary of Kindia, Guinea, but also serving as a parish priest in Bokè, Katace, Koundara and Ourous. At the age of 34 he was appointed Archbishop of Conakry becoming the then youngest bishop in the world. After this intense and fruitful experience, he returned to Rome to work very closely with then Pope Saint John Paul II, who appointed him Secretary of the Congregation for the Evangelization of Peoples.
About nine years later, Pope Benedict XVI chose him as the president of the Pontifical Council "Cor Unum" and created and proclaimed him Cardinal, before Pope Francis appointed him in 2014 as Prefect of the Congregation of Divine Worship and the Discipline of the Sacraments.