The Order of Malta celebrates twenty-five years of service in Lithuania
Roma, 14/09/2016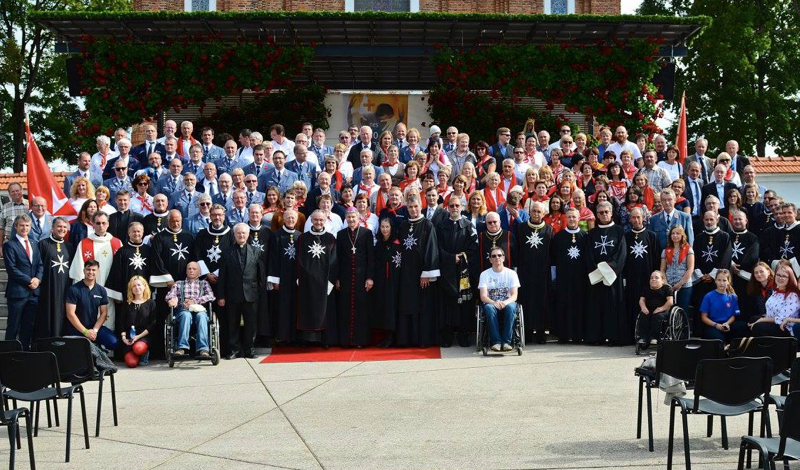 Gathering of Central and Eastern European Organizations
Many events celebrated the 25th anniversary of the Order of Malta's Relief Organisation in Lithuania. With over 1,200 volunteers in 40 towns nationwide, Maltos Ordino Pagalbos Tarnyba runs numerous social assistance projects for the poor, the elderly, the disabled and children from disadvantaged families.
The celebrations were launched on 8th September with a conference "Tackling Challenges Together" in the government building. Opened by the Lithuanian Premier Algirdas Butkevičiaus, the Sovereign Order of Malta's Grand Hospitaller Dominique de La Rochefoucauld-Montbel gave an overview of the Order's work worldwide with particular reference to that based on cooperation agreements with countries, institutions and local communities. Also taking the floor were the Irish ambassador David Noonan, Alexander Becker, head of Malteser Hamburg, John Wright, manager of the Order of Malta's Irish Ambulance Corps and Eitvydas Bingelis, Secretary General of Maltos Ordino Pagalbos Tarnyba in Lithuania.
The Institutional Meetings
During the course of his visit, the Grand Chancellor of the Sovereign Order of Malta, Albrecht Boeselager, met the Lithuanian Premier Algirdas Butkevičius and Minister for Foreign Affairs Linas Linkevičius.
The Grand Hospitaller Dominique de La Rochefoucauld-Montbel had a working meeting with the Lithuanian Minister of Labour and Social Affairs Algimanta Pabendinskiene and also visited some of the Order's projects in Lithuania. These include meals on wheels to the homebound in operation since 1993 – 105,000 meals were served to 460 people in 17 locations nationwide in 2015.
The Central and Eastern Europe Conference
The Order of Malta's organizations and embassies in central and eastern Europe held a meeting in Vilnius on 10th September. The Grand Chancellor Albrecht Boeselager and the Grand Hospitaller Dominique de La Rochefoucauld-Montbel also participated and closed the meeting. The conference discussed the promotion of voluntary service, assistance to refugees, the Order's internal and external communications and the search for new forms of operational cooperation between organizations running similar projects.
The Celebrations
For the day of the sick on 9th September, those participating in the celebrations made a pilgrimage to Šiluva, the oldest Marian sanctuary built in 1457. Participants included numerous Order of Malta volunteers from Germany who, since the country became independent in 1991, have been involved in improving the conditions of the weaker groups of the population. By providing economic aid, goods and equipment, as well as helping to transfer skills, they have been fundamental in achieving the results obtained over the 25 years of the Order of Malta's presence in Lithuania.