Filippo Grandi meets the Grand Chancellor in Rome to discuss migrants and refugees
Rome, 01/12/2016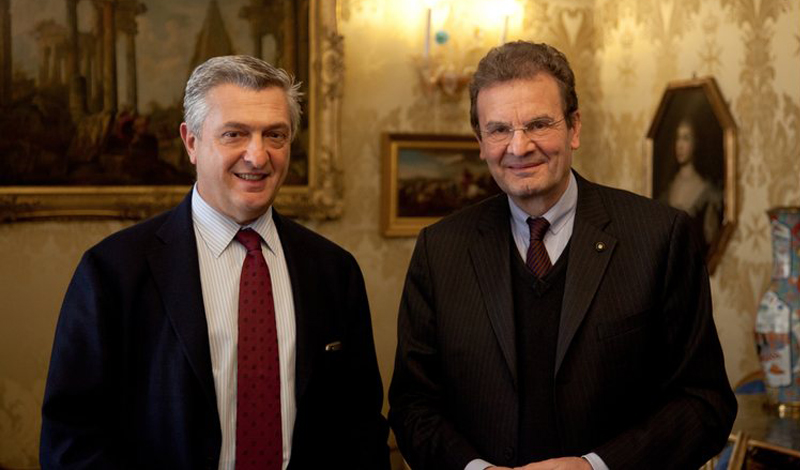 The UN High Commissioner: "You represent the forces of solidarity"
This morning the UN High Commissioner for Refugees Filippo Grandi met the Grand Chancellor of the Order of Malta, Albrecht Boeselager at the Magistral Palace in Rome. The main topics of the meeting were the great migration flows, the extremely serious humanitarian emergencies throughout the Middle East and central Africa, human trafficking along the main migration routes and the odyssey of the survivors of the increasingly frequent shipwrecks in Mediterranean.
Filippo Grandi pointed out the International community's efforts to manage both the migrant flows and the 20 million refugees in flight from wars and persecutions, with reference to the 71st UN General Assembly last September focussed precisely on the topic of refugees and migrants.
"You represent the forces of solidarity," Grandi said, recalling that in the tales of the migrants rescued in the Mediterranean sea, the Order of Malta's Italian Relief Corps – working on the Italian Coastguard and Navy vessels – are often the first friendly faces to be seen after undergoing months of violence and torture. "Giving assistance with humanity, as you do, is essential," repeated Grandi.
The Grand Chancellor illustrated the main initiatives that the Order of Malta, through its national associations, its volunteer corps and its International Relief Agency, is developing in some of the most critical areas of the world, from the countries bordering Syria, to South Sudan and Myanmar and up to the European countries, the landing place of many migrants.