Training for the Order of Malta's Diplomats
Vienna, 22/03/2017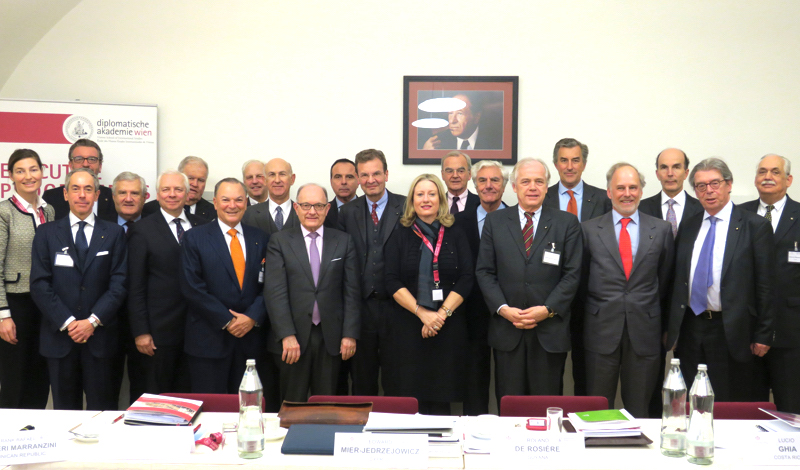 In Vienna, recently appointed ambassadors refine their skills
The recently-appointed and accredited ambassadors of the Sovereign Order of Malta met in Vienna for four days of work. Organized by the Grand Magistry's Foreign Affairs Department, the training course was held in the Diplomatic Academy of Vienna.
Numerous subjects were covered, including international relations and future scenarios, the Order's diplomatic action in the international context, the promotion of security and human rights in multilateral diplomacy and how diplomatic missions participate in the Order's humanitarian work. More operational topics were also discussed such as organization, protocol, privileges and immunity, fund raising and developing an effective communication.
During the course, the Grand Chancellor Albrecht Boeselager, the Grand Hospitaller Dominique de La Rochefoucauld-Montbel, Fra' John Dunlap, President of the Committee for the Protection of Names and Emblems and the Secretary General for Foreign Affairs Stefano Ronca all took the floor.
There was unanimous agreement on the need to increase vocational-training opportunities for the Order of Malta's ambassadors who are not – in the majority of cases – career diplomats. Other similar conferences are already in preparation. 
The Grand Chancellor Meets the Austrian Minister of Foreign Affairs
The Austrian Foreign Minister received the Grand Chancellor Cancelliere Albrecht Boeselager on 15 March in Vienna. The focus of the talks was the humanitarian crisis in progress and the international community's commitment to overcome it.