Letter from Pope Francis to Council Complete of State
Rome, 28/04/2017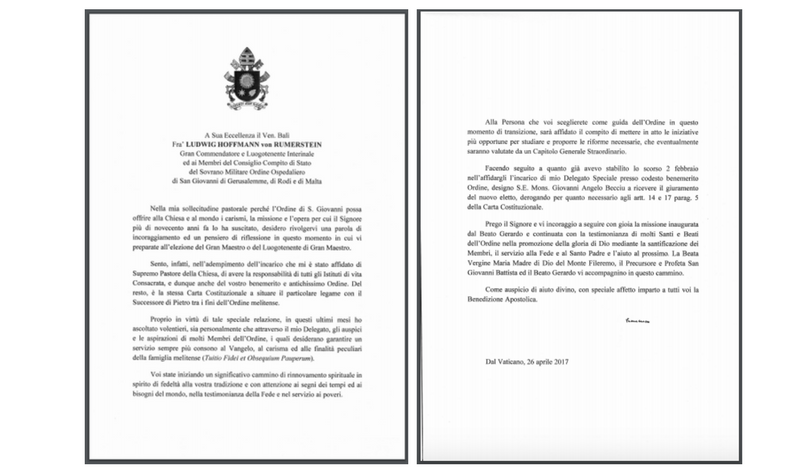 To H.E. the Venerable Bailiff
Fra' LUDWIG HOFFMANN von RUMERSTEIN
Grand Commander and Lieutenant ad interim
and to the Members of the Council Complete of State of the Sovereign Military Hospitaller Order
of Saint John of Jerusalem, of Rhodes and of Malta
In my pastoral concern that the Order of St. John might offer the Church and the world its Charisms, the mission and the work for which the Lord brought it into existence 900 years ago, I desire to offer you a word of encouragement and some reflections at this moment in which you prepare for the election of the Grand Master or Lieutenant of the Grand Master.
I believe, in fulfilment of the charge entrusted to me as Supreme Pastor of the Church, that I have responsibility for all Institutes of Consecrated life, and therefore also for your distinguished and ancient Order. Moreover it is the same Constitutional Charter that envisages a particular relationship with the Successor of Peter as one of the aims of the Order of Malta.
By virtue of this special relationship, in these last few months I have gladly heard, either personally or through my Delegate, the wishes and aspirations of many Members of the Order, who want to ensure a way of serving even more consonant with the Gospel, to the charism and particular objectives of the family of the Order (Tuitio Fidei et Obsequium Pauperum).
You are embarking on an important path of spiritual renewal in a spirit of fidelity to your tradition and with vigilance to the signs of the times and needs of the world, through the witness to the Faith and in the service to the poor.
To the Person who you will choose to guide the Order in this moment of transition, will be entrusted the duty if implementing the appropriate initiatives to study and put forward the necessary reforms, which will then be duly evaluated by an Extraordinary Chapter General.
Following that which I laid down on 2nd February last in entrusting the responsibility of my Special Delegate before this distinguished Order, I now designate H.E. Msgr. Giovanni Angelo Becciu to receive the Oath of the newly elected, derogating as far as necessary articles 14 and 17, para. 5 of the Constitutional Charter.
I pray to the Lord and I encourage you to joyfully carry out the mission begun by Blessed Gerard and continued by the witness of many Saints and Blesseds of the Order in promoting the glory of God through the Sanctification of its Members, the service to the Faith and the Holy Father and the help to our neighbors. May the Blessed Virgin Mary Mother of God of Mount Fileremo, the Precursor and Prophet Saint John the Baptist, and the Blessed Gerard accompany you on this path.
As a pledge of divine assistance, with special affection, I impart to all you my Apostolic Blessing.
Francesco
From the Vatican, 26 April 2017