Armed conflicts have displaced 30 million minors worldwide
Rome, 01/06/2017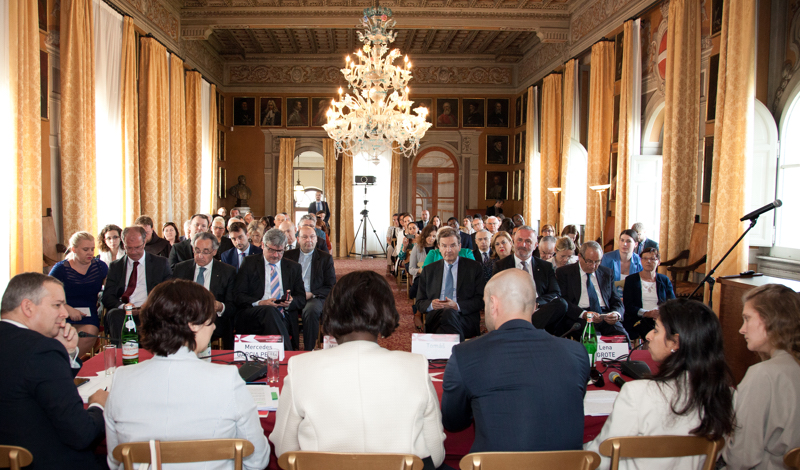 On International Children's Day – celebrated June 1st – the Sovereign Order of Malta and the Embassy of the Czech Republic organized a conference in the Magistral Villa, Rome, for raising awareness on the drama of children who are victims of armed conflicts. This tragic and continually growing phenomenon has to date displaced 30 million children worldwide, exposed to every form of violence, abuse and exploitation. Overall, some 230 million children have had their lives devastated by armed conflicts.
Opening the conference, the Order of Malta's Grand Hospitaller Dominique de La Rochefoucauld-Montbel said that children were the first victims of wars and persecutions; as the crisis regions multiply the number of minors denied a future increases exponentially.  One of the first effects of conflicts on children's lives is the lack of access to education and healthcare, factors that induce many families to abandon their countries of origin for an uncertain future.
The numbers reveal the dramatic consequences for young people exposed to war. On a global level, 28% of the victims of human trafficking are children. In 2016, in Europe alone, one asylum seeker out of three was a minor.  Again, in 2016, nine out of ten children who crossed the Mediterranean Sea on ramshackle boats were unaccompanied.
Today's conference, attended by representatives of the Holy See, European Union, Council of Europe and UNICEF, as well as representatives of the Czech Republic's government and various ambassadors, also wanted to commemorate the Lidice massacre perpetrated by the Nazis 75 years ago in the village of Lidice in the Czech Republic.  Veronika Rymonova, a survivor, was there to recall the carnage carried out on 9 June 1942, in which some 300 people were killed including 90 children. Veronika, who at the time was only 5 months old, said she hoped this dramatic chapter in history could serve to prevent future massacres of children.
The Order of Malta, present in 120 countries, carries out numerous activities to help children who are victims of conflicts. In Bethlehem, in the Middle East, it manages the Holy Family Hospital where 3,500 babies are born every year. This is the only health facility for mothers and children in the entire area, where the Israeli-Palestine conflict has forced poverty and hardship on the local population. In Iraq and Turkey, the medical teams of Malteser International – the Order of Malta's International Relief Agency – assist children displaced by the war in Syria, as well as in various African countries afflicted by wars such as South Sudan and the Democratic Republic of the Congo.  In Europe, and especially in Germany, the Order of Malta also looks after unaccompanied migrant children.  For 27 years it has been running numerous reception centres with 20,000 beds, where minors receive psychological support, healthcare and access to education.