Fra' Giacomo Dalla Torre visits the earthquake areas in central Italy
Arquata del Tronto, 15/06/2017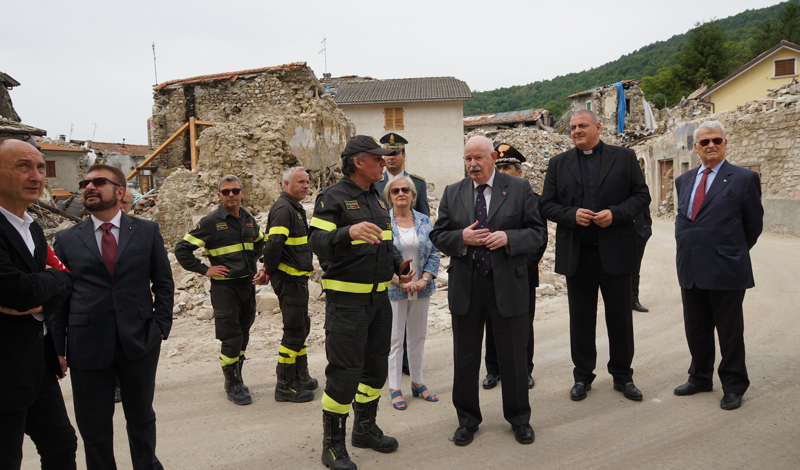 'I came to hear the stories of those who have been through so much and to thank our volunteers for being close to them in their moment of need'. With these words, Fra' Giacomo Dalla Torre del Tempio di Sanguinetto wanted to express the sense of his visit to the villages of Arquata del Tronto, devastated by the earthquake of 24 August 2016, and Pescara del Tronto , which suffered 49 deaths and which was practically razed to the ground.
Accompanying the Lieutenant of the Grand Master was the Grand Commander Fra' Ludwig Hoffmann von Rumerstein and the President of the Order of Malta's Italian Relief Corps, Gerardo Solaro del Borgo.
After visiting the red zone in Pescara del Tronto, accompanied by the mayor Aleandro Petrucci and the prefect of Ascoli Piceno, Rita Stentella, Fra' Giacomo Dalla Torre attended mass in the village's wooden church, celebrated by the bishop of Ascoli Piceno, Msgr. Giovanni D'Ercole. Afterwards he met the people made homeless by the earthquake, currently housed in the diocese of the Valledacqua Monastery.
Some 700 volunteers from the Order of Malta's Italian Relief corps were on site in the aftermath of the quake that struck Lazio, Umbria, Abruzzo and Marche on 24 August. Thousands of people were assisted by doctors, nurses, psychologists, first responders and technicians for administrative formalities. Over 20,000 meals were produced in the field kitchen set up during the winter. Tons of food and medicines were distributed. With their constant presence, the Order of Malta's teams also provided support to the communities in the months following the quake.