The Sovereign Order of Malta signs Cooperation Agreement with the Indian Ocean Commission
Rome, 04/07/2017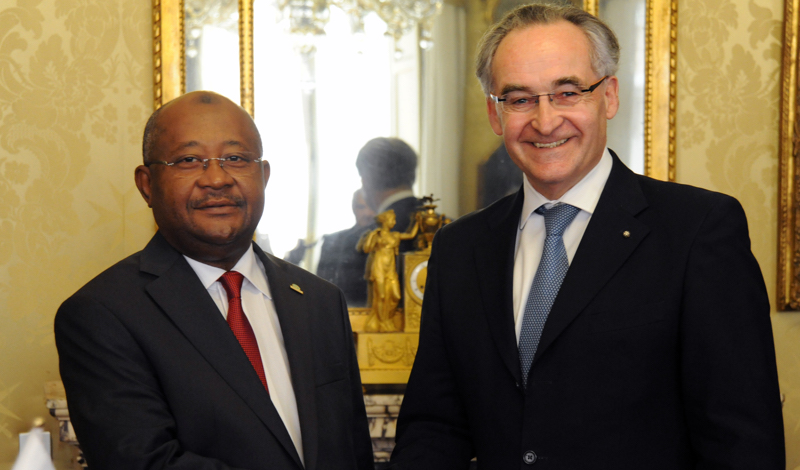 The Sovereign Order of Malta and the Indian Ocean Commission (IOC), signed today at the Magistral Palace in Rome, a Cooperation Agreement in the field of health and medical assistance. The Sovereign Order of Malta has been an Observer Member at the Indian Ocean Commission since March 2017.
Established in 1982, the Indian Ocean Commission is composed of altogether five African Indian Ocean nations: Comoros, Madagascar, Mauritius, Réunion (an overseas region of France), and the Seychelles.
According to the Cooperation Agreement signed today by IOC's Secretary General Hamadi Madi and the Grand Hospitaller Dominque de La Rochefoucauld-Montbel, the Order of Malta will organize and take part in the training of first aid volunteers and will implement medical and paramedical training in the Indian Ocean countries.
In addition, Ordre de Malte France and Malteser International (the Order of Malta's worldwide relief agency), will also grant support in case of natural disasters, epidemics or conflicts. Staff from Malteser International was deployed recently in Madagascar to assist the local authorities to manage the aftermath of the tropical cyclone Enawo, in March 2017.
During today's meeting the Grand Hospitalier recalled "the importance of having stable and deep-rooted institutions, which are factors of confidence to act effectively for the benefit of those who suffer in a fast-moving world".
Current medical and social projects of the Order of Malta in IOC member states
In Madagascar's capital, Antananarivo, Ordre de Malte France runs, in the local hospital, the 'Pavillon Sainte Fleur', which ensures high quality medical assistance to mothers and new-borns and has reduced significantly infant mortality rates.
In the Mauritius, Ordre de Malte France manages first aid courses to volunteers who provide assistance during major events organized on the island.
Ordre de Malte France supports, in the Comoros, four medical centres and one mobile clinic ensuring that the local population has medical access.
The Embassy of the Order of Malta in the Seychelles supports a number of social and medical projects such as professional nurse courses, and the renovation of medical facilities and schools.