'Order of Malta: integral part of safe Lithuania' said President Dalia Grybauskaitė
Vilnius, 05/09/2017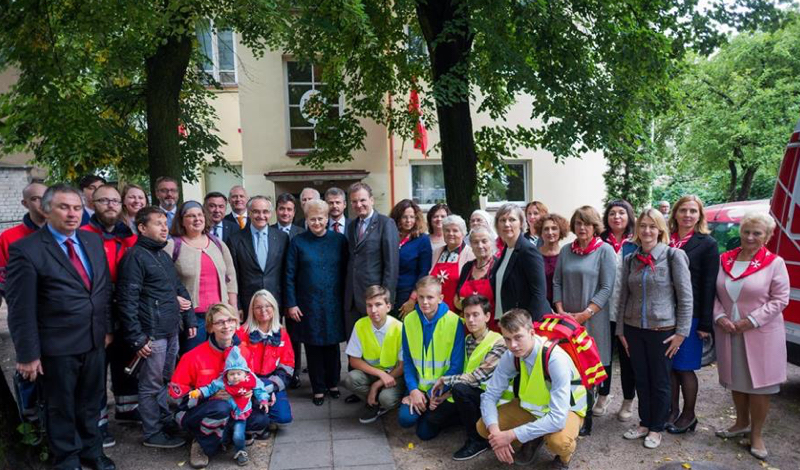 Bilateral cooperation agreement signed in Vilnius
The President of the Republic of Lithuania Dalia Grybauskaitė met with the Sovereign Order of Malta's Grand Chancellor Albrecht Freiherr von Boeselager and Grand Hospitaller Dominique Prince de La Rochefoucauld-Montbel to discuss cooperation between Lithuania and the Order in providing social and humanitarian support. This year marks the 25th anniversary of the establishment of diplomatic relations between Lithuania and the Sovereign Order of Malta.
The President spoke to team members of the Order of Malta's Relief Organisation in Lithuania and visited the Malteser Day Care Center where she met with children and the elderly and baked cookies together.
According to Dalia Grybauskaitė, the Sovereign Order of Malta – a long-time promoter of the spirit of volunteering, care and compassion across the nation – has become an integral part of a safer Lithuania. It serves as a remarkable example of effective support to the disadvantaged and the most vulnerable. Malteser's volunteers are engaged in charitable work that not only ensures welfare for many people, but also contributes to the development of citizenship and a responsible society.
Malteser's volunteers are partners of the social campaign "For a Safe Lithuania" initiated by the President. Joint activities include social support, participation in initiatives such as "Give Children a Summer", the establishment of day care centers, and buying school essentials for kids from socially disadvantaged families. The projects and initiatives will continue to provide extended relief to the poor.
While marking the 25th anniversary of diplomatic relations, Prime Minister of Lithuania Saulius Skvernelis and the Grand Chancellor, signed a bilateral cooperation agreement. "This is the result of close cooperation and, at the same time, a new page of cooperation in areas such as health care, social security and the refugee issues", said the Prime Minister. "We can see the fruit of close cooperation. A major breakthrough has certainly been achieved in terms of the contribution of the Order of Malta to the promotion of volunteering, combating social exclusion and charitable activities", noted the Prime Minister.
The Prime Minister thanked the Grand Chancellor for his personal contribution during the events of 13 January 1991. At that time, Albrecht Freiherr von Boeselager, was in Lithuania bringing a shipment of medication from Germany to Lithuanian hospitals and 'supported our country in difficult times'.
The Order of Malta opened its headquarters in Lithuania in 1991. 1500 Malteser volunteers are currently engaged in voluntary social work in 44 cities and towns of Lithuania. Malteser day centers for youth and kids operate in 14 towns nationwide. Social assistance projects include help and care to the homebound, meals on wheels, transportation services for the disabled, first aid and paramedical training.