The Order of Malta's Seventh Asia Pacific Conference in Singapore
Singapore, 14/11/2017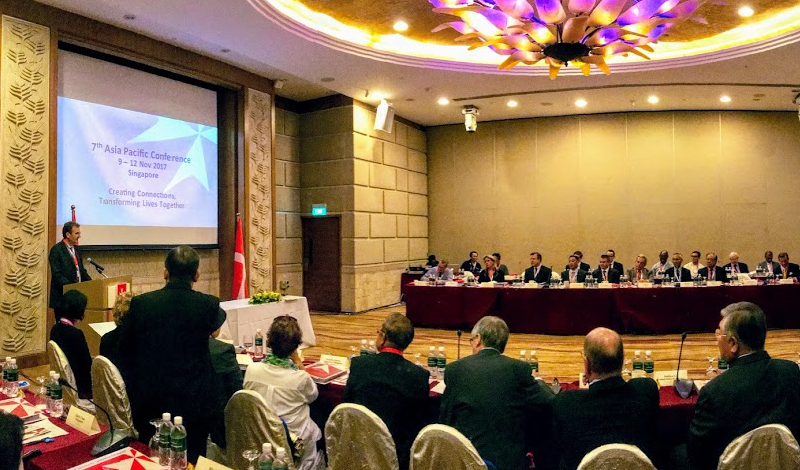 The expansion of the Order of Malta's activities in the Asian continent and Australia and the increase in regional cooperation were the key topics of the Order of Malta's 7th Asia Pacific Conference.
Some 50 delegates met in Singapore from 9 to 12 November for this annual event to take stock of the situation, assess progress, share experiences and reinforce synergies.
In detail, the Order's activities for the more vulnerable groups of the population in Australia, New Zealand, Singapore, Philippines, Hong Kong, Thailand, South Korea and East Timor were discussed. A special session was also devoted to the programmes developed by Malteser International in Asia and the Ciomal Foundation in Cambodia, as well as the initiatives of the Global Fund for the Forgotten People.
There was particular applause for two transnational projects. The first is the Order of Malta's new medical centre in Tili, capital of East Timor, one of the poorest south-east Asian countries. Inaugurated a few days before the conference by the Order's Ambassador David Scarf in the presence of the country's leaders, it already stands out for the high level of care offered, especially to those without the means to access the ordinary health service. The second project was prompted by the over 30-year experience in summer camps for the disabled young organised by the Order's European volunteers. Last August, the Order of Malta's Singapore Association set up the first Asian edition of these international camps.
The Grand Chancellor, Albrecht Boeselager and the Grand Hospitaller, Dominique de La Rochefocault-Montbel chaired the meeting with the president of the Order's Singapore Association, Rose Lu Soo Ying. Also present were the presidents of the Order of Malta's Philippine and Australian associations – the oldest in this part of the world – as well as representatives of the Order's delegations and ambassadors in the region.
The next appointment is for mid-November 2018, when the Philippine Association will be the organizers of the 8th Asia Pacific Conference in Manila. In the meantime, the second edition of the Asian summer camp for the disabled young is being prepared, to be held next August in the same city.