Holy Family Hospital: over 75,000 babies born since 1990
Palestine, 02/01/2018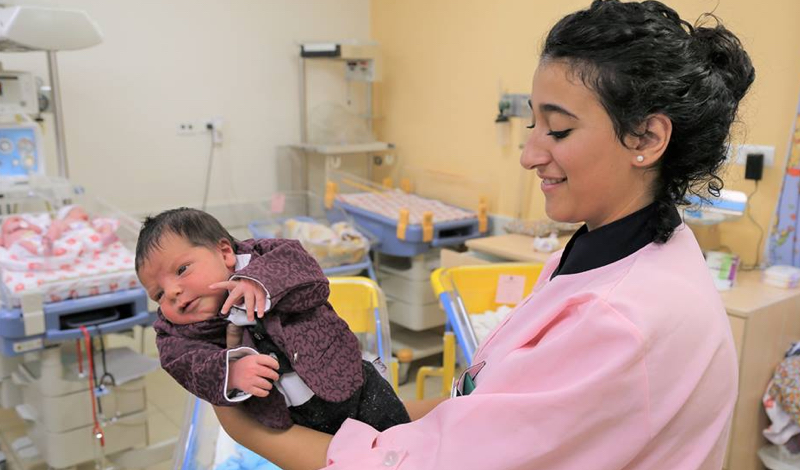 2017 has closed with growing numbers for the Holy Family Hospital in Bethlehem. Over the past year, some 4000 children were born in the maternity hospital that the Order of Malta has run since 1990. Births recorded during the past decades have steadily grown – in 1990 there were 900 babies born whereas ten years later they had risen to 3,000. The total number of births now stands at around 75,600.
The hospital, situated a few metres from the Church of the Nativity, has the only neonatal intensive care unit in the entire West Bank.
Premature babies with respiratory problems and bronchopulmonary diseases reap the most benefit from the advanced medical services. For example there is little Ali, born in the Holy Family Hospital three months early. "The doctors and nurses were fantastic during the 95 days that Ali spent in intensive care. They supported and encouraged us and always kept us informed about our son's progress. Thanks to them, Ali is fine now," Samar his mother tells us. Alì is three years old and has become a lively and happy child.
On 18 November 2017, the World Prematurity Day was celebrated to raise awareness on the problems linked to preterm births. For this occasion, the Holy Family Hospital invited the children born prematurely in 2014 before the natural term of 9 months. Ali and his family were also among them.
Supported also by the Order of Malta's diplomatic representative in Palestine, Michèle Bowe, the hospital organized, together with the Palestine Children's Relief Fund, the first neonatal symposium for paramedics, in which 45 nurses from 10 hospitals participated.