Hospitallers and Hungarians: excavations uncover the Syrian archaeological heritage
27/02/2018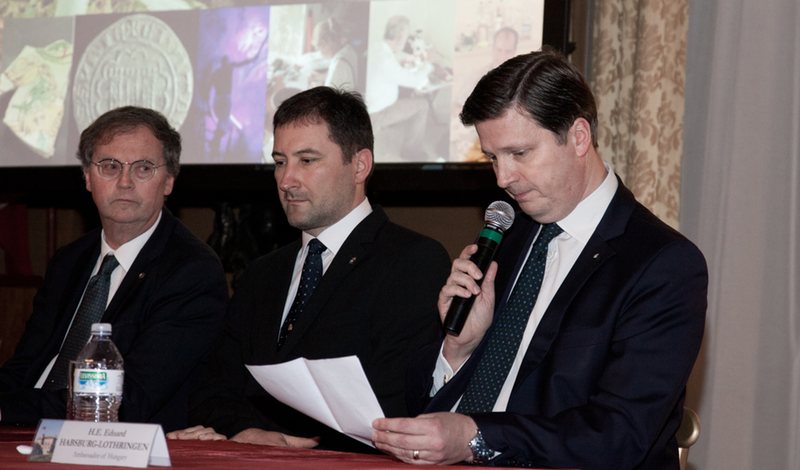 Not even seven years of war have managed to stop Prof. Balázs Major's excavations and archaeological discoveries in Syria. Head of the Department of Archaeology at the "Pázmány Péter" Catholic University in Hungary, Prof. Major has been conducting excavations in the Syrian coastal region since 2007. His research has focussed in particular on the Margat fortress.
During a conference in the Chapter House of the Order of Malta's Magistral Villa in Rome on 22 February, in the presence of the Lieutenant of the Grand Master, Fra' Giacomo Dalla Torre del Tempio di Sanguinetto, Prof. Major described, with the help of numerous photos, the strategic importance of the castle of Margat. Between 1185 and 1287, it was here that the Knights Hospitaller – today the Order of Malta – had the nerve centre of their activities in the region.
The conference, organized by the Embassy of Hungary to the Holy See and to the Sovereign Order of Malta together with the Order's Grand Magistry, offered an opportunity for examining, through drawings and reconstructions, the architecture of this castle – an authentic fortified citadel. The functions of the different areas – reconstructed also thanks to a study of the Order's statutes – the plumbing system, very advanced for its time, and the kitchen were also discussed. There was an interesting discovery of some pictures in the Margat chapel, including a beheading of St. John the Baptist, probably by a European painter. These pictures are now considered the most important cycle of 13th-century frescoes in Syria.
Prof. Major described the Hungarian King Andrew II's military expedition to Syria in 1217 and the sizeable financial donations to both the Hospitallers' fortresses of Margat and the Krak des Chevaliers, to guarantee their strategic role.
The Ambassador of Hungary to the Holy See and to the Sovereign Order of Malta Eduard Habsburg-Lothringen, called Prof. Major "not only an eminent archaeologist but also an extraordinary representative of the strong historical links uniting Hungary to the Order of Malta".
Thanks to the Hungarian government's commitment in this sector, 282 Syrian students were able to participate in Pro. Major's excavations in their country and benefit from scholarships in Hungary. Today these students represent a hope for the future of the archaeological reconstruction of Syria and the conservation of the Knights Hospitaller's historical and cultural heritage.