The Grand Master receives the romanian Prime Minister
14/05/2018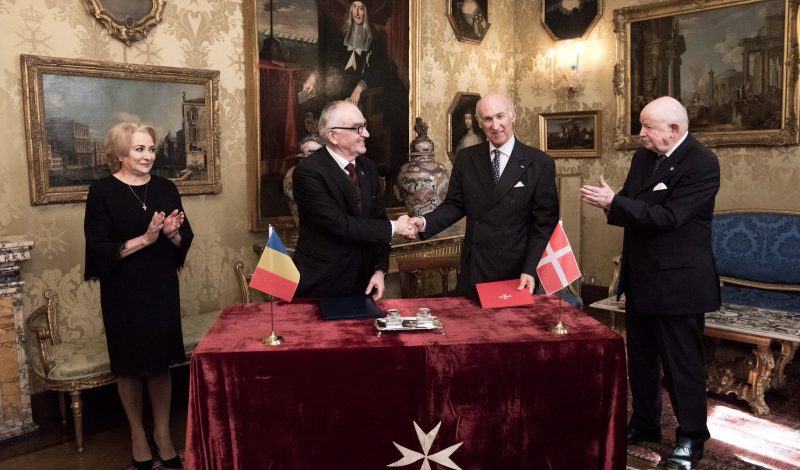 New cooperation agreement signed
The Prime Minister of Romania, Mrs Viorica Dancila, was received in the Magistral Palace by the Grand Master Fra' Giacomo Dalla Torre del Tempio di Sanguinetto on 11 May.
During the talks the excellent relations and historical links between Romania and the Order of Malta were confirmed, together with the mutual commitment to put into practice the principles of charity and solidarity. The Prime Minister – the first woman to hold the high office – expressed Romania's appreciation for the work the Order performs in the social sector through its national association and volunteer corps.
The Prime Minister said that solidarity and helping the most disadvantaged "will constitute Romania's points of reference during the Presidency of the European Union Council that my country will take over in the first semester of 2019".
During the meeting, Amb. Stefano Ronca, Secretary General for Foreign Affairs, and Liviu-Petru Zapirtan, Romania's ambassador to the Sovereign Order of Malta, signed a new cooperation agreement to replace that of 2002 currently in force.
"This new agreement will certainly give a new and stronger impetus to the Order of Malta's work in Romania and will foster trilateral initiatives, for example in the Middle East, an area that is of concern to us all," declared Ambassador Ronca.