Grand Chancellor outlines main engagements of the Order of Malta to European ambassadors
08/07/2018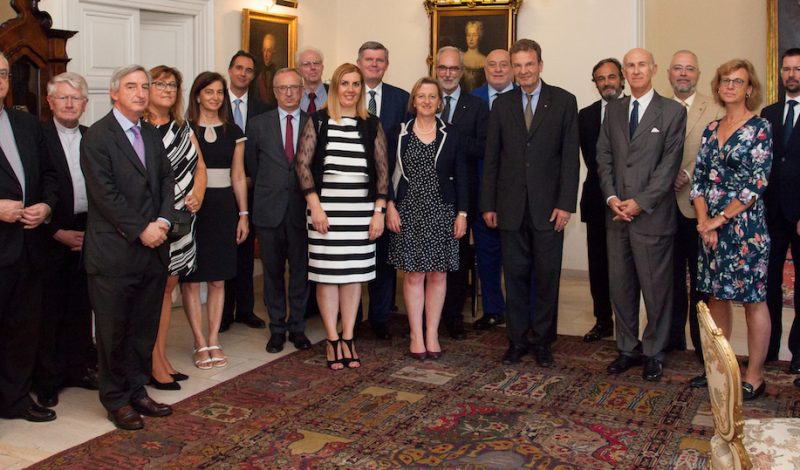 The migration flows, the instability in the Middle East, the rise of xenophobic movements and the challenges the European Union is facing are just a few of the many topics discussed by the Gran Chancellor of the Sovereign Order of Malta, Albrecht Boelesager, during his meeting with ambassadors of European countries. All the ambassadors are accredited to the Holy See, with many also accredited to the Sovereign Order of Malta as well. The meeting that tackled some of the most pressing issues international diplomacy is facing, was hosted by the Austrian Ambassador Alfons Kloss.
Amongst these, the current humanitarian crisis in Libya with the estimated 250 illegal hotspots. The Grand Chancellor illustrated the Order of Malta's role in the training of the Libyan Coast Guard. Four cycles of training have taken place since 2016, preparing more than 200 officers of the Libyan Navy and Coast Guard in search and rescue activities as well as medical first aid. The Italian Relief Corps of the Order of Malta has been in the forefront of the rescue activities since the very start of the migration crisis in the Mediterranean Sea.
Boeselager underlined the comprehensive and far-reaching worldwide action of the Order of Malta in the migration field, including the provision of legal support, integration and education projects, first aid along virtually every migration route, medical support in the refugees' camps in Turkey, Lebanon, Iraq or Uganda, just to give some examples.
With the same commitment, the diplomatic network of the Order – Boeselager noted – is also engaged in the process leading to the Global Compacts on Migrations and Refugees at the United Nations in New York and Geneva. With the nomination of two Ambassadors at large to contrast trafficking, the Order of Malta is also firmly engaged in raising awareness of international organizations in the field of human trafficking and is working with local African authorities.
Specifically on this topic, the Grand Chancellor met a few days ago Monsignor Sanchez Sorondo, Chancellor of the Pontifical Chancellor of the Pontifical Academy of Sciences and Social Sciences, confirming the strong collaboration between the Holy See and the Order of Malta.