The Grand Master's State Visit to Cameroon
18/07/2018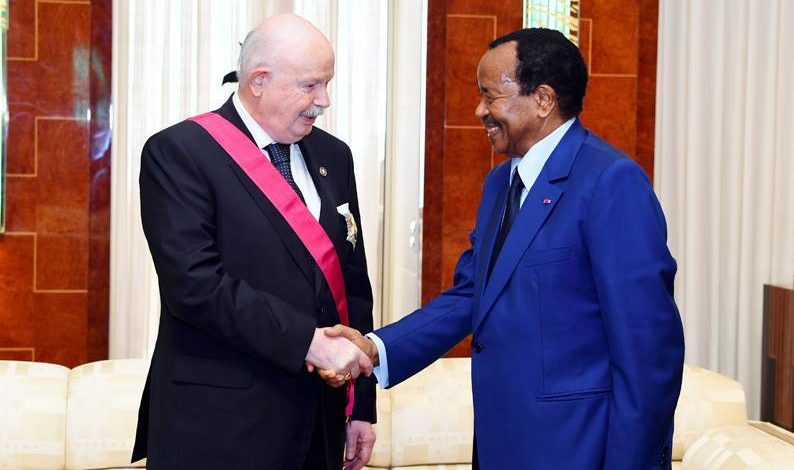 Welcomed upon his arrival in Yaoundé by Prime Minister Philémon Yang, Grand Master Fra' Giacomo Dalla Torre del Tempio di Sanguinetto arrived in Cameroon for a state visit from 16 to 19 July.
President Paul Biya received the Grand Master in Unity Palace, Yaoundé on 17 July. Discussed during the long and cordial meeting were the 57 years of bilateral cooperation and the Order of Malta's commitment in the Central African country. The intention is to increase the assistance offered to the population in the health and humanitarian aid sectors. In Njombé in the coastal region, the Order manages the modern St. John of Malta Hospital and the President and the Grand Master agreed that it is necessary to continue to support the hospital, a point of reference for the entire region.
In the early morning, Fra' Giacomo Dalla Torre visited the new apostolic nuncio, Monsignor Mario Murat. In the afternoon, the Grand Master went to the Yaoundé University. Here, during a ceremony attended by over 700 teachers and students, he was awarded a laurea honoris causa in Classics and Philosophy for 'his work in these fields of study and for his humanitarian commitment'. In his speech the Grand Master said that "the classics have always been a privileged means for interpreting the present and for understanding that humanity's conquests are not definitive. We have to be vigilant and analyse with a critical spirit what we have achieved in history to grow and mould ourselves as citizens, aware of our rights and duties.
During the second day of the visit, bilateral meetings were held with the Ministers of Foreign Affairs, of Health and of Defence.
The significant moment of the Grand Master's visit was on Wednesday, when he went to a Central African refugee camp run by the UNHCR (UN High Commissioner for Refugees) in east Cameroon on the border with Central Africa, a country where interethnic and interfaith violence has forced over 400,000 persons to flee here. Today Fra' Giacomo Dalla Torre will visit the Order of Malta's St. John of Malta Hospital in Njombé, inaugurated in 1994 in this south-west region of the country afflicted by malaria and AIDS and run since 2000 by Ordre de Malte France.