The pontiff: the future of the planet is in God's hands, but human beings also have their responsibilities
05/09/2018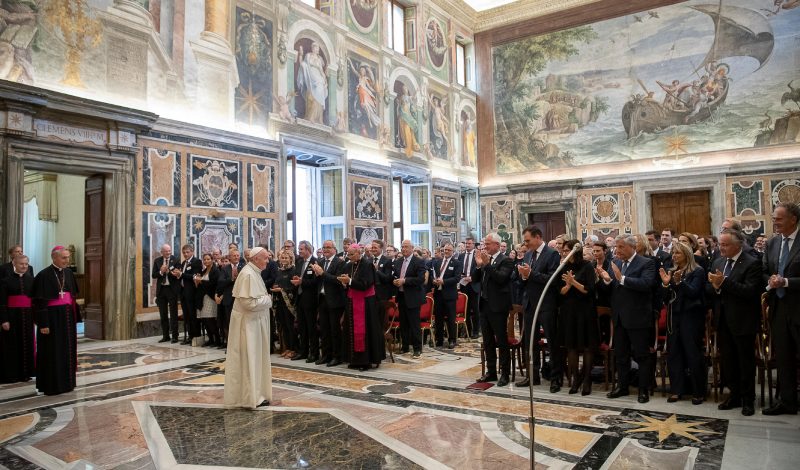 "Each of us has a responsibility for others and for the future of our planet. In the same way, the economy must serve men and women and not exploit or rob them of their resources". With this explicit reference to humankind's responsibilities, Pope Francis urged a delegation of 100 German entrepreneurs to take care of the future of the earth and place technology at the service of the poorer countries to embark on a path of sustainable development.
Among the participants at the Saturday audience in the Vatican's Sala Clementina, rounding off three days of work inspired by the environmental encyclical "Laudato Si", were the President of the European Parliament, Antonio Tajani, the Grand Hospitaller Dominique de La Rochefoucauld-Montbel, the President of the Order of Malta's German Association Erich Prinz von Lobkowicz and the President of BDE (German national association for preserving resources) Peter Kurth.
In tackling this theme so dear to him on the "World Day of Prayer for the Care of Creation", the pontiff looked to St. Francis as an "example par excellence of care for the vulnerable and of an integral ecology lived out joyfully and authentically".
These values are fully shared by the Order of Malta, aware – as the Grand Hospitaller recalled in his contribution to the Day for Creation – "that the impact of the alterations to the planet is felt most by the vulnerable and it is our duty as practising Catholics to encourage humanity to change its ways". The Order of Malta has long-standing programmes for protecting the environment and for preserving common goods like water and air, including developing tropical organic farming. "I would like to point out", said de La Rochefoucauld-Montbel, "that these are eco-sustainable projects to increase the quality of life of local communities so they can continue living in their ancestral lands, and not add to the current migratory flows".
The German Minister for Cooperation and Economic Development Gerd Müller also took part in the symposium organized by BDE (Bundesverband der Deutschen Entsorgungs- Wasser-und Rohstoffwirtschaft) with Malteser Deutschland. Speakers included Archbishop Georg Gänswein, Prefect of the Papal Household, and Bishop Marcelo Sànchez Sorondo, Chancellor of the Pontifical Academy of Social Sciences.